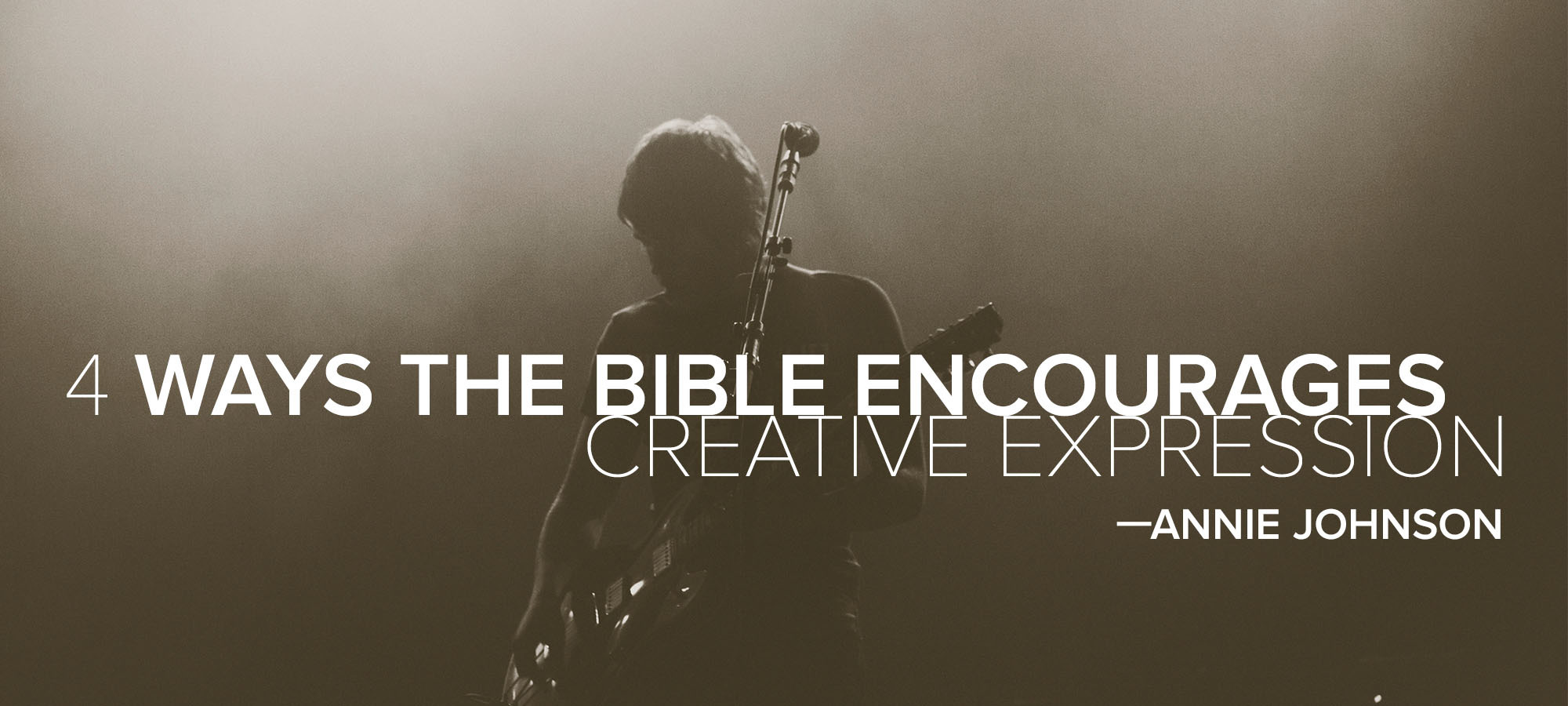 God likes creativity. It's possible to think He is merely a strict taskmaster in the sky, begrudging us any sort of enjoyment in life. But He is the Creator God, and we are made in His image and likeness. That situation holds plenty of implications for us. God made us to enjoy relationship with Himself and with other people. He made us for fellowship, expression and sharing. He gave us the ability to respond to His love and share it with others. He talks a lot about joy. Expression is personal response. It's worthwhile to express.
1. Creative Expression Is Incarnational
"And the Word became flesh and dwelt among us, and we beheld His glory, the glory as of the only begotten of the Father, full of grace and truth… And of His fullness we have all received, and grace for grace" (John 1:14,16)
Jesus is the ultimate expression of God: the Word, the image of the invisible God, put on flesh and became a Man not just so we could see or hear about His grace and truth, but that we could behold His fullness in real life. Simply by knowing Jesus and believing in Him, we receive the fullness of His grace. If expression could have no other topic, wouldn't grace be sufficient? It's real; it's messy. It's unbelievable; it's lovely. It's free; it's heart wrenching: characteristics which typify all the best art.
If our lives, art and expression are known for the grace of God at work within us (in all the various forms it manifests), then our art has become incarnational: We have let the Word of God put on our flesh because we've received fullness of grace. (Plus, receiving full grace means being humbly enabled to give it; nobody likes a know-it-all, but everyone likes a fellow learner.) Art is humble and honest and raw and helps people interpret life. Let's interpret through the lens of the Gospel and the love of God.
2. If The Word Is In Us, We're Able To Express
"Let the word of Christ dwell in you richly in all wisdom, teaching and admonishing one another in psalms and hymns and spiritual songs, singing with grace in your hearts to the Lord" (Colossians 3:16).
This Biblical command is quite simple: Let the Word dwell in our hearts richly. Let the Word in, and we will have the grace to praise the Lord and encourage others. It will make us wise, so we aren't just venting our feelings or proclaiming something other than the Gospel. Furthermore, obedience to this command actually enables every person in the church to write "worship songs" — and it doesn't require musical talent. We can teach and help one another by the songs of praise (musical or otherwise) that we share because of the Word in us.
Maybe by dwelling on a passage during a particularly hard season, we will find a treasured promise, which becomes the "new song" in our mouths until we are brought out of the pit, like David sings about in Psalm 40:1-3. When we simply let the Word say what it says, it changes our perspective, and God changes us. Please note that expression is a God-given gift to all people, not just the ones who think they're creative. This is for all of the church, to the glory of Jesus. It's not self-glorification; it's practically and humbly relating with God and others. Let's communicate from the position of learners and listeners, with a well-watered garden of the Word of God in our hearts.
3. There Is No Secular Or Sacred
"And whatever you do in word or deed, do all in the name of the Lord Jesus, giving thanks to God the Father through Him" (Colossians 3:17).
"Whatever" is a pretty big word. It isn't constricted to church services or worship leading or mission trips or Bible studies at a coffee shop. We don't have to divide things into Christian or otherwise. It's whatever. Anything. If we're living in the reality of the Gospel, the Bible and the Holy Spirit will be showing us what doesn't glorify God, and all the other things become fair game for glorifying Jesus. It's words and deeds; not just one or the other. Every act and word of our lives can express our thanks to God. We do this through Jesus, whose blood paid to redeem every part of our lives for His glory. A.W. Tozer wrote about this in his book, The Pursuit of God:
"The sacred-secular antithesis has no foundation in the New Testament…The Lord Jesus Christ Himself is our perfect example, and He knew no divided life…By one act of consecration of our total selves to God we can make every subsequent act express that consecration."
Let's engage in every aspect of our lives, creatively and wholeheartedly, out of freedom and thankfulness and love to God.
4. Expression Is A Catalyst for Joy And Fellowship
"That which we have seen and heard we declare to you, that you also may have fellowship with us; and truly our fellowship is with the Father and with His Son Jesus Christ. And these things we write to you that your joy may be full" (I John 1:3-4).
Life is about fellowship. The Godhead enjoyed fellowship together, and then God created man to enjoy fellowship with Him as well. Jesus died to restore the fellowship, which our sins had broken, and by faith in Him, we also receive the Holy Spirit in our hearts, enabling communion with God and people. As people, we all see things a little differently. We all know God personally. And God saw fit to make us all into the Body of Christ (the Church). To put it plainly, we need each other's perspective to know God most fully. When we share our lives and God's goodness in plain sight of one another, we love God and one another more fully.
We don't need to know it all to be able to express: We just need to open our mouths and share what we have seen and heard. Sometimes this will correct us when we've thought wrong; other times it will strengthen a weary soul in season (see Isaiah 50:4). …And more, there are many other Scriptures which encourage me to bravely share what God is teaching me in my life and to eagerly listen when others share from their perspective.
Life is exciting, and Jesus invited anyone with ears to hear. As we listen to the Word and live in light of the Gospel, we'll find creative inspiration everywhere. And when we do, let's fill our own creative outlets with grace and thanksgiving and joy — not with burdens, but with freshness and life. Let's serve one another through the honest expression of our lives. We've been loved by Love Himself, the original Creator. I think He's pretty pleased when we attempt to express like Him.