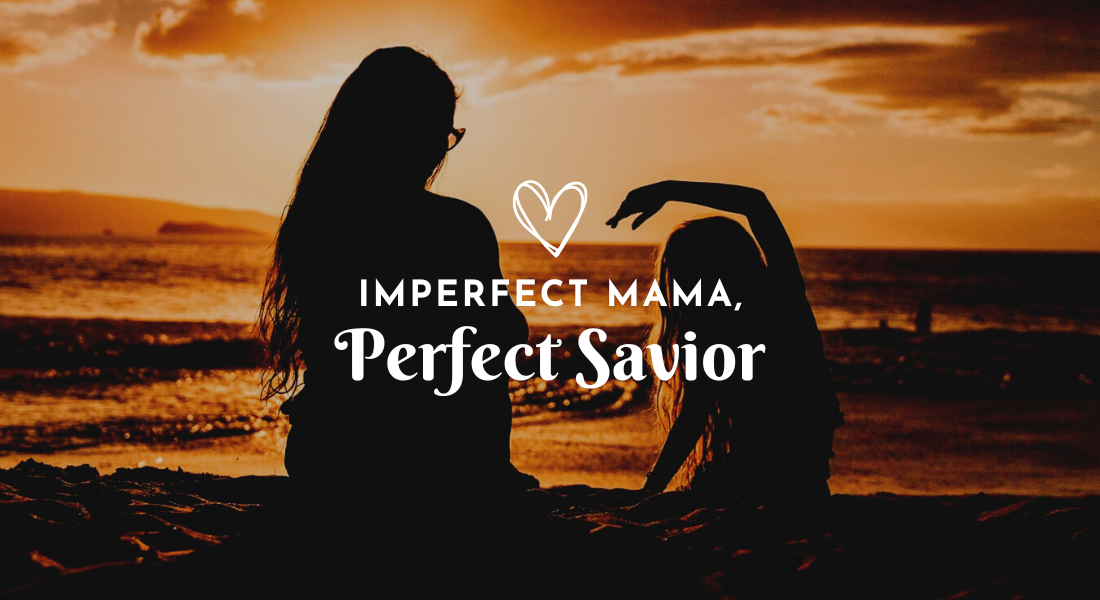 As someone who has only been in the mommy club for a year and a half, it goes without saying that I am no expert on parenting. It's something that you really can't prepare yourself for in advance; you just have to dive right in and pray like you've never prayed before!
The thing I pray for most is that I would be sensitive to the leading of Christ as I attempt to raise this tiny human to be a good, kind person and a lover of Jesus.
Let me tell you – it's not easy. In the age of social media, there is an enormous amount of pressure on moms to "have it all together".
Someone out there in Instagram world decided that moms are only doing this thing right if their little ones are eating kale with every meal, can read by the age of two and never look at a television screen. Oh, and, while moms are cooking all of that kale and organizing endless activities for their kids from 7:00am to 7:00pm, they are expected to drink 65 cups of water, get 2 hours of exercise, prepare beautiful, healthy meals and maintain a perfectly clean house (acceptable for posting flawless photos, of course).
Okay, I'm exaggerating a bit. But can I be honest with you? There are many days that I'd love to post a photo of my beautiful daughter on social media, but I don't. You know why? Because I can't locate a five-by five-foot in my home with no mess.
Yikes, I know. But if you're honest too, do you know what I'm talking about? Can you relate? The stress of trying to be the perfect mom is just too heavy a burden to carry on a daily basis.
On top of all of this, I wrestle with anxiety most days, and I know a lot of other moms do, too. It's no wonder with the impossible goals that we set for ourselves and the pressure coming from every direction.
Beyond all of that, I worry about my family's physical and mental health. I worry about our finances. I worry about all of the unknowns of the future.
It is in this place that I am comforted by the life-giving words of Psalm 25 that remind me "All the paths of the LORD are steadfast love and faithfulness, for those who keep his covenant and his testimonies." I also recall Corrie Ten Boom's wise words, "never be afraid to trust an unknown future to a known God."
You see, problems are going to happen. We go from mountaintop to valley and back up to mountaintop throughout our lives, and that's just the way it is here on this imperfect earth. So, I MUST choose to trust God with all of my unknowns. I MUST believe that He has a plan and a purpose for my life. I MUST entrust my family to my Savior.
If I don't intentionally make these decisions each and every day, I crumble. And sometimes I do crumble; I don't have this down perfectly. It's faith in a perfect God and a daily surrender. I MUST choose to remember that "Perfect love drives out fear" (1 John 4:18). And the only place to find perfect love is in Christ Jesus.
With all of this in mind, I'd like to share 3 things that I've learned in the past year and a half since becoming a mom. I have much more to learn, but these are some important truths that God has spoken to my heart.
1. God loves my child infinitely more than I could ever fathom.
I've never loved another human in the same way that I love my little girl. She is part of me and I would give my life in a split second for her. Can you imagine the height of God's love for His children? He sent His Son – His ONLY Son, whom He loved with all of His heart, because He loved US and deemed us worthy of everlasting life if we choose to follow Him.
It takes my breath away to realize how much God loves me. But He also loves my child in the exact same way! He loves her MORE than I have the capacity to love her.
I don't know about you, but I could never send my daughter to die for someone else. So in the moments of worry, anxiety, stress and fear of the unknown, remember that God loves your little ones much more than even you love them! He has a plan for their lives and He will see it through. As hard as it is to imagine such great love, that is the truth, and I am so grateful for it.
2. The way I live demonstrates Christ to my child on a daily basis…or not.
One of my clearest memories as a child is waking up in the morning to see my mom sitting in her chair with her cup of coffee and Bible opened in front of her taking in the Word of God before anything else. I never realized the huge gift that was to me, and she probably didn't either at the time. I feel so blessed to have parents who have loved the Lord with all of their hearts for as long as I've been alive.
I know that not everyone had the same experience as a child, but it can start with you! You can make a deep impact in your little ones' lives simply by following Jesus and sitting at His feet in daily surrender.
I think of Mary and Martha on the day that Jesus came to visit. Martha missed the opportunity to sit at Jesus' feet because she was too busy running around and trying to make everything perfect while Mary spent every moment with Jesus. I desperately want my daughter to see the heart of Mary in me.
Even so, there are days that I don't get a chance to sit before the Lord first thing in the morning, despite my best efforts. The reality is that there will be days where we have to hit the ground running even though we feel so physically and emotionally tired that we can barely stand. When those days come, fall on Jesus. Remember that His grace is sufficient for you.
3. I am not my child's savior.
Let me say this again: I am NOT my child's savior.
I don't have to have it all together. I don't have to be responsible for making everything right in her world and in our home. I don't have to fix everything. And let's be honest, I can't do those things anyway, but sadly that doesn't stop me from feeling the pressure to try.
I'm not the savior of my home and that realization brings so much freedom. I want you to know that the best thing you will do for your little ones each day is to point them to their true Savior, Jesus Christ. Sometimes you'll do it with tears in your eyes and sometimes you'll do it with joy in your heart. Just point them to Christ, and you can be confident that in that moment, you are doing the right thing.
I truly pray that these truths speak life to you and release you from the burden of trying to be the "perfect mom". Know that God sees you right where you're at and He has placed you there for a purpose. He is the Rock on which you can stand when the fears and unknowns of life wash over you. Sit at the feet of Jesus and allow Him to guide you as you navigate this crazy mom life.
Hang in there, friend. You've got this and He's got you.