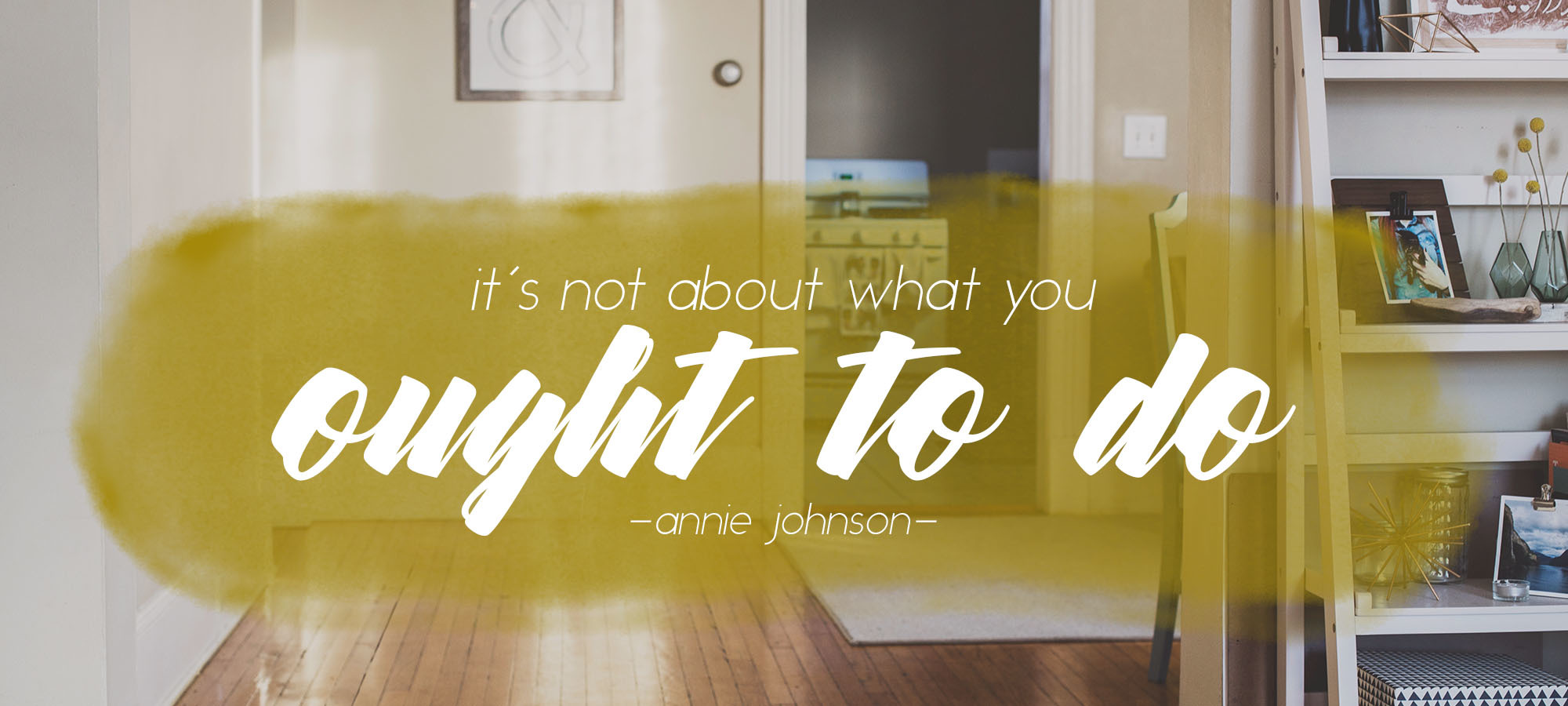 Sometimes I feel trapped by the all the things I think I ought to do. I ought to do more; I ought to sin less. I ought to feel better; I ought to become stronger. But somehow these oughts remain, and I'm still lacking. You see, oughts, no matter how many I pile up, have never been able to change me much. Ought is just not a strong enough appeal. And even if it was compelling enough to want to do something about it, I don't find in myself the strength to accomplish much lasting improvement.
I find this very problematic. I can't really do what I think I ought to do, and even if I can do it for a while, I lose interest after the novelty of it fades. I give up if results don't happen or feel like I'm wasting my time. So, I transfer my attention to all the other things I ought to do. It's a great recipe for feeling like a total failure all the time. Added to this inability to perform on an elite level in every area of my life (I am a recovering perfectionist), let's throw in the curve ball of, say, chronic illness. So even if I ought to do something; I want to try it, and I do the best I can with what I've got, I still come up short because my body will decide that it just can't get out of bed the next day after I've gone too hard and done too much. Seriously? It feels like I can't win. The game is rigged. I'm doomed to failure.
Lately, I have felt that there are so many oughts demanding my attention that I can't choose which one to do.
I'm not just talking about things on the calendar; it's everything else that would also be "good to do." And yet, the all-knowing Creator God has entrusted to me blessed limitations. They don't feel blessed. They feel uncomfortably constricting. But they are for my good. Many times in my life, I have felt the struggle between what I think I ought to do, even what I think I would really love to do, and the finiteness of my own frame. "…He remembers that we are dust" (Psalm 103:14b). Does that mean God set us up for failure? Or could it mean that our high and lofty expectations for ourselves are a bit man-made, and that His thoughts, which are higher than ours, might expect something different of us altogether? "For My burden is easy and My yoke is light" (Matthew 11:30).
I don't think God deals much in oughts. It doesn't seem to be His character to make deals with us: "Ok, if you do this thing you ought to do, THEN life will be great. Perfect. Go ahead; I'll wait." He doesn't tell us to fix ourselves and get our act together and get stronger and be better and sin less and be magically unflawed in order to get to Him. No. Jesus says, "Come." He requires no fixing as a prerequisite to coming to Him. (And, dear Christian, I am not only speaking of salvation here; I am speaking of the daily walk of a believer!) He doesn't hang the heavy cloud of guilt-ridden oughts over our head and wait until we check every last one off the list before we can move on to the next level with Him. No. That's the law. Remember? And if we keep the whole law, but fail at one point, we're guilty of all.
Jesus didn't come for that. Jesus doesn't guilt-trip us.
I think it's possible that we guilt-trip ourselves. Now, a healthy dose of "I'm going to die to my flesh and do the right thing" is absolutely appropriate. But I'm not talking about that. I'm talking about the condemnation in our minds that says, "Now that you're saved, you are required to perform perfectly all the time henceforth and forever, and failing to do so will disappoint God and everybody else." Whoa. Did God ever say that to us? What about righteousness that is not of my own doing, received through faith, by grace? What about what Paul wrote in Philippians 3:9: "And being found in Christ, not having my own righteousness, which is from the law, but that which is through faith in Christ, the righteousness which is from God by faith"?
Receiving the gift of Jesus' righteousness imputed on my behalf does not look like me striving to perform better all the time. It looks like me saying, "You and I both know I can't behave on a spiritual level in my own strength, Lord. This has got to be You." And it's not a linear progression towards perfection, either. I'm still as much of a sinner as ever; I just realize it more now. I'm worse than I thought I was. I need more grace than I ever could have fathomed I'd need.
Praise God that being in a relationship with Jesus is not about what I ought to do.
I think it's funny and frustrating all at once when God shows us that He knows our frame is only dust. He'll "close a door" in our face. He'll let the chronic illness flare. He'll cancel all our plans. He'll, in His mercy, let us "do all the right things" and still not get the desired effect out of it. He doesn't deal in oughts. Grace isn't ought. Jesus didn't die for us because He figured He ought to. He didn't have to. But He did it because He loved us, and He chose to. And if "His ways are higher" means that He'd do something that selfless in order to restore my relationship with Him, I think I can receive the frustrations of life as His love to me, too.
So, all oughts aside, how do we move forward?
Come. Realize He loves us. Receive His grace. Come freely to Him and enjoy the relationship. His love and acceptance are exactly the satisfaction our oughts fail to achieve. He does not despise our weakness like we do. Jesus demands nothing of us; He just says come. The only guilt that should compel us towards God is the fact that we're unable to fix ourselves. He's fully able to heal and restore us; that's not our job. He can; He's willing. He loves us. Love isn't ought. Love is response. We love because He loved us first. Sometimes love means limits and hard things; He knows that better than any of us. His love availed strongly for us, so we don't need to ought anymore. We get to receive and respond and be loved.
So, I'm learning to not let the oughts dictate my performance. Be loved by God; the oughts don't need a throne. Jesus, the infinite and loving Jesus, just says come, be and be loved. In the face of all our oughts, let's draw boldly near to God, knowing this best not-ought: "The greatest of these is love."