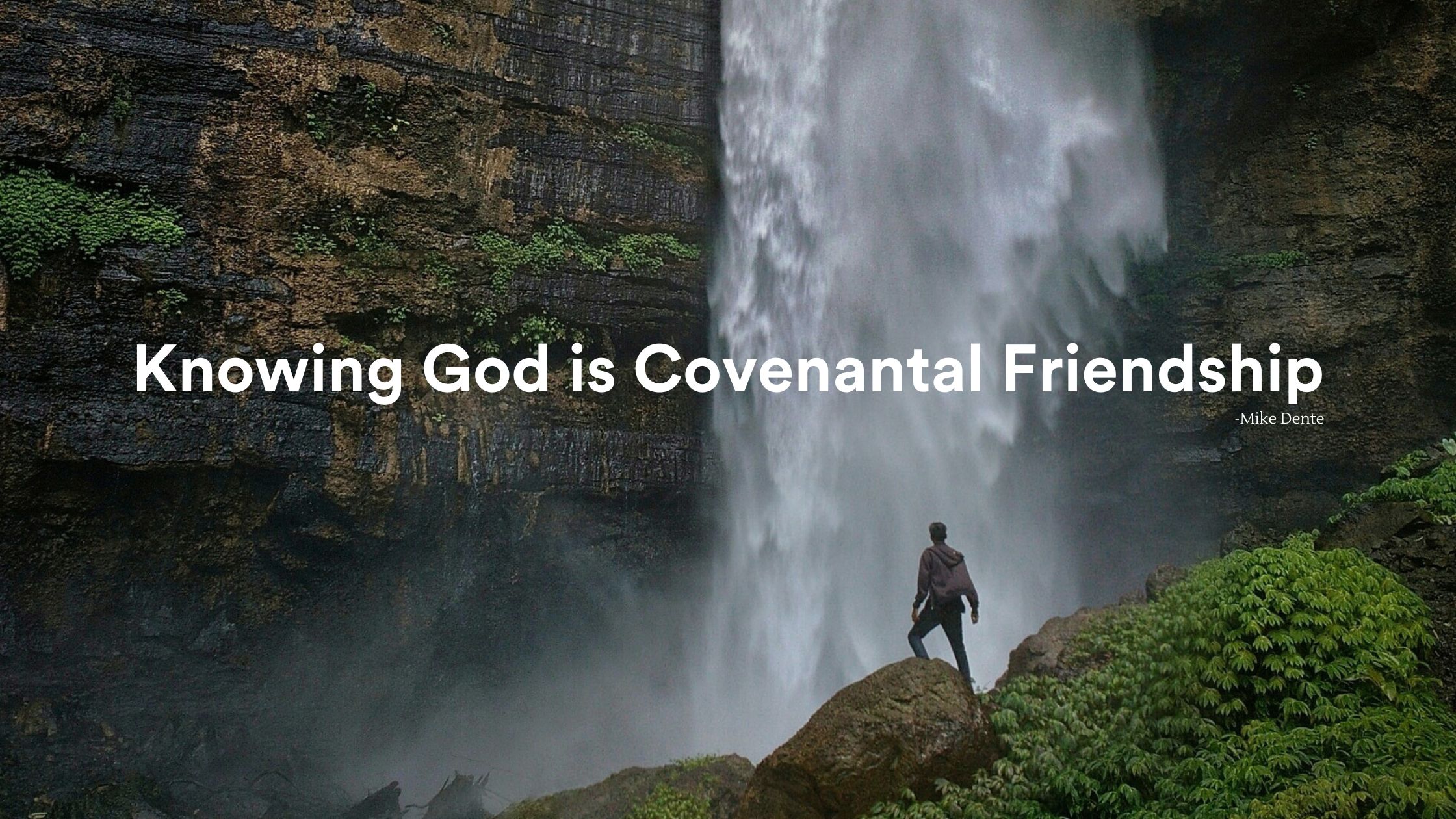 In the 90's, I was part of what we called an "Emo" band. (My kids have made me aware of just how much this term has changed since then.) We were in our 20's, full of dreams, and most importantly, we were friends. But as believers, we understood the difficulties we would face if we chose a more missional approach. To our great joy, we were employed to record three songs exclusively on vinyl that would never make it into a full album. It was to be rare, arty, and oh so cool! Side A had a song called "My Life is Green." Written shortly after my conversion, my wobbly voice testified of such an incredible flourishing I'd discovered in Christ, that the only word I could find was "green."
I recently listened to the record and reminisced about what it was that made life so sweet. It was being known by the all significant Other and discovering Him as my God, my closest friend. But what does it mean to be a friend of God? On the surface, it sounds oddly spiritual, and in some circles, completely pretentious. Can we truly be a friend to God?
Responding to God's Invitation of Covenantal Friendship
There's a sense in knowing God, that's like friendship, a "friend that's closer than a brother" (Pr 18:24). There's another way in which He will be the greatest friend we may know, but we can never reciprocate: He is Lord of all, perfect in transcendency, authority, and power. He alone, therefore, can save, provide, heal, or give life, but He is also closer than we can ever imagine. Paul talking about faith and Israel, quoted Moses on the matter, saying, "The word is near you, in your mouth and in your heart" (Rm 10:8). David, in contemplative worship wrote, "Where can I go from Your Spirit? Or where can I flee from Your presence?" (Ps 139.7).
The Lord is imminent, more so than is described in spiritism or pantheism because He is not the sun, moon, or earth, but the Creator of all. He chooses to live in closeness with humans. He chose to walk with man in the Garden, to manifest His presence in the Tabernacle, to walk among us in through the Son, to indwell us through His Spirit, and one day He will again be in our midst. God knows us, loves us, and chooses to be close. John Frame wrote how the Bible speaks of God, knowing men as actually loving or befriending them.1 To further illustrate this, Frame points out that Scripture doesn't speak this way about unbelievers. This is telling because through faith we come to know not just facts about God but get to know Him. As Esther Meek notes, "Frame says, memorably, that the goal of knowing God is friendship. God the covenant Lord, as such, is the partner in the covenant that definitively shapes the covenant. He is the initiator, creator, as creation, is the response."2 So, in knowing God, we respond to His invitation to friendship.
This reminds me of Abraham, of whom it is said that he's God's friend (2Chr. 20:7; Isa 41:8; Jas 2:23). He was called out of idolatry (Jos 24:2) and into a relationship with God (Gen 12:1-3). There was the call to follow the Lord, accompanied by a promise of His blessings, but especially His presence. This is the way of the covenant language the Bible uses. It can even be detected in YHWH, the Lord's covenant name as revealed to Moses. As Calvin says, "The covenant which God always made with his servants was this, "I will walk among you, and will be your God, and ye shall be my people," (Lev. 26:12). These words, even as the prophets are wont to expound them, comprehend life and salvation, and the whole sum of blessedness."3
Happiness is found in knowing Him, communing with Him, and hearing from Him. It's a friendship unlike any other because as our knowledge of Him grows beyond the boundaries of expectation, while at the same time barely scratching the surface. "The secret things belong to the LORD our God, but those things which are revealed belong to us and to our children forever, that we may do all the words of this law." (Dt 29:29) This is a mysterious friendship with the Almighty, who has translated it into our practical living.
Created for Covenantal Friendship
It would seem that we were created for covenantal friendship, as the suggests the first question in the Westminster Catechism.4 Though it's not common to speak of an "Adamic covenant" one could point to the Creational mandate, noting that we were made in the image of God to cultivate a life and culture around us in the image of what He would do. This would require knowing God. Not just knowing about Him, but loving Him and enjoying Him. As L. Michael Morales points out, "The image of God describes the uniqueness of human existence by virtue of which the individual can enter a relationship with God. The human being is regarded as God's counterpart on earth, the "You" who is addressed by God, and the "I" who is responsible to God."5 Our friendship is in this way expressed through prayer and lived through our following what He says as Jesus put it in John 14:15. Although our culture has such an aversion to the word "obey" that it became a skater line of fashion and protest, it's quite a normal reaction to anyone or movement we value most. We only call it adherence, joining, following, embracing, and at times, toeing the line.
The Cost of Making Covenantal Friendship Possible
Yet even in our fallen state, the enjoyment of God is made possible through covenant relationship. For this, we turn to the night in which He was betrayed, when the Lord spoke into the Passover Seder a truer meaning than a Haggadah can express.6 He pointed to the bread as a symbol of His broken body and the cup as representing the New Covenant, concluded through the spilling of His blood. In this scene, we see the most intimate form of the covenant, one resulting in the law being writ on human hearts. Dallas Willard shares, "And it is only the knowledge of this God whose deepest nature is love that is the source of the ancient prophecies with their radiant hopes. God has made himself known by personally approaching human beings and involving himself in their lives."7
In the great plan of our generous God for the community, He has shared some of the deepest expressions of His love, in His inclusion of us into covenant friendship.
This is a friendship worth singing about and may many artists continue to fill our spaces with their worship. Friendship with God does indeed bring flourishing and inspires a love that is destined to grow evermore profound into eternity. Maybe my 90s "Emo" band had it right for a moment. Covenant friendship with God has made my life flourish green. And maybe in spending time with Him, times of silence and meditation, we can experience more freedom in our covenantal friendship with our dearest Friend.
---
1 Dr. Frame also adds an impressive list of examples in Scripture that I wanted to list here: note Exodus 33:12, 17; Ps. 1:5; Jer. 1:5; Amos 3:2; Nahum 1:7; Matt. 25:12; John 10:14,27.
John Frame, The Doctrine of the Knowledge of God, P&R Publishing, Philipsburg, N.J., 1987, p. 46-47.
2 Esther Lightcap Meek. Loving to Know: Covenant Epistemology. Cascade Books, an imprint of Wipf and Stock Publishers. Kindle Edition, 2011, p. 154.
3 John Calvin, Institutes of the Christian Religion, Book 2.10.8, Translation, by Henry Beveridge, Electronic text by OakTree Software, Inc.
4 "What is the chief end of man? Man's chief end is to glorify God,1 and to enjoy Him for ever." WSC 1, (1647).
5 L. Michael Morales, Who shall ascend the mountain of the Lord?, InterVarsity Press, Downers Grove, IL, 2015, p. 47.
6 "Telling." A Haggadah is a text that lays out the order of celebration in a traditional Passover meal.
7 Dallas Willard, The Divine Conspiracy, Harper Collins e-book, 1998, p. 384.