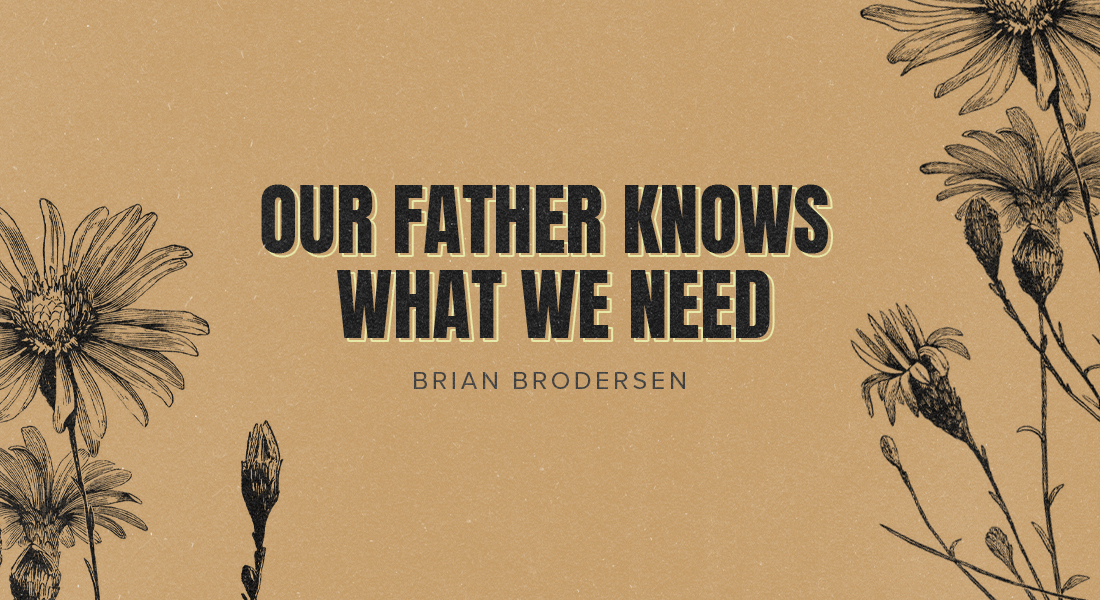 "Therefore I say to you, do not worry about your life, what you will eat or what you will drink; nor about your body, what you will put on. Is not life more than food and the body more than clothing? Look at the birds of the air, for they neither sow nor reap nor gather into barns; yet your heavenly Father feeds them. Are you not of more value than they? Which of you by worrying can add one cubit to his stature?
"So why do you worry about clothing? Consider the lilies of the field, how they grow: they neither toil nor spin; and yet I say to you that even Solomon in all his glory was not arrayed like one of these. Now if God so clothes the grass of the field, which today is, and tomorrow is thrown into the oven, will He not much more clothe you, O you of little faith?
"Therefore do not worry, saying, 'What shall we eat?' or 'What shall we drink?' or 'What shall we wear?' For after all these things the Gentiles seek. For your heavenly Father knows that you need all these things. But seek first the kingdom of God and His righteousness, and all these things shall be added to you. Therefore do not worry about tomorrow, for tomorrow will worry about its own things. Sufficient for the day is its own trouble" (Matthew 6:25–34).
There is a lot of fear in the air, but it's not due to just the Coronavirus. Many are also living in fear of the immediate and long-term economic ramifications of this global crisis. Already, people are out of work because of the mandatory shutdowns of many businesses. Some are being let go in an attempt to scale back in preparation for the future, and many are wondering if their businesses are going to survive this crisis.
In a podcast entitled, "Leading Beyond the Blizzard: Why Every Organization Is Now a Startup," the authors said, "Due to the complex and interconnected nature of our society and economy, the majority of businesses and nonprofits are 'effectively out of business' as of today, in that the underlying assumptions that sustained their organization are no longer true."1
Now, whether that statement is true or not, the fact remains that these are uncertain times, and anxiety, fear and the temptation to worry are at heightened levels, to say the least.
The truth is, no one knows the future except God, and the God who knows all things has told us, His children, "Do not worry about your life … For your heavenly Father knows what you need."
I want to walk us through this wonderful passage, which has personally ministered to me so many times over the years, and draw from it the lessons and encouragement available for us at this time in history.
The Word for Those Who Worry
In this section of Matthew, Jesus uses the word "worry" no less than six times. The root word speaks of "anxiety about things pertaining to this earthly life."
Jesus said we are to look at the birds and remember that our heavenly Father feeds them. We are to consider the flowers and marvel that the Lord gloriously clothes them even though they neither "toil nor spin."
The One from Whom the Word Came
Jesus—the One who calmed the storm and sea, fed thousands with five loaves and two fish, turned water into wine, cleansed the lepers, healed the sick and raised the dead—this Jesus is:
"… The image of the invisible God, the firstborn over all creation. … by Him all things were created that are in heaven and that are on earth, visible and invisible, whether thrones or dominions or principalities or powers. All things were created through Him and for Him. And He is before all things, and in Him, all things consist. And He is also the head of the body, the church …" (Colossians 1:15–18).
God the Father "… spoke to our ancestors thought the prophets at many times and in various ways, but in these last days he has spoken to us by his Son, whom he appointed heir of all things, and through who also he made the universe. The son is the radiance of God's glory and the exact representation of his being, sustaining all things by his powerful word" (Hebrews 1:1–3).
When Jesus says not to worry or to take anxious thought about our lives, we should listen and take to heart what He says.
The Overarching Message
In the days and weeks to come, remember these truths and put His words into practice:
• God is your heavenly Father, and He values you far above the world of nature that He faithfully cares for.
• Don't spend your time fretting and worrying about things you have no control over. Unbelievers do that. But this is not to be the case with the people of God.
• Cast "all your care upon Him, for He cares for you" (1 Peter 5:7).
• Finally, "seek first the kingdom of God and His righteousness, and all these things shall be added to you." All that you need will be taken care of by God.
The antidote to fear and anxiety is faith and assurance that your heavenly Father knows what you need. If you are a believer, you can trust Him. However, if you cannot say with absolute confidence that you are a child of God, you can become one today. But you have to make that decision. Receive Him as your Lord and Savior, and receive the forgiveness of sins.
The words to a classic hymn came to mind as I was studying through this passage. Praying these words encourage you today.
1 This is my Father's world,
And to my listening ears
All nature sings, and round me rings
The music of the spheres.
This is my Father's world:
I rest me in the thought
Of rocks and trees, of skies and seas—
His hand the wonders wrought.
2 This is my Father's world:
The birds their carols raise,
The morning light, the lily white,
Declare their Maker's praise.
This is my Father's world:
He shines in all that's fair;
In the rustling grass I hear Him pass,
He speaks to me everywhere.
3 This is my Father's world:
O let me ne'er forget
That though the wrong seems oft so strong,
God is the Ruler yet.
This is my Father's world:
Why should my heart be sad?
The Lord is King: let the heavens ring!
God reigns; let earth be glad!
—Maltbie D. Babcock
This article was taken from Pastor Brian Brodersen's message, "Your Heavenly Father Knows What You Need," on March 22, 2020. To listen to it in full, go to cccm.com. There, will you find this and other helpful resources.
Notes:
1 Crouch, Andy, Kurt Keilhacker, and Dave Blanchard. "Leading Beyond the Blizzard: Why Every Organization Is Now a Startup." The Praxis Journal. 20, March 2020. Web. 30 March, 2020.