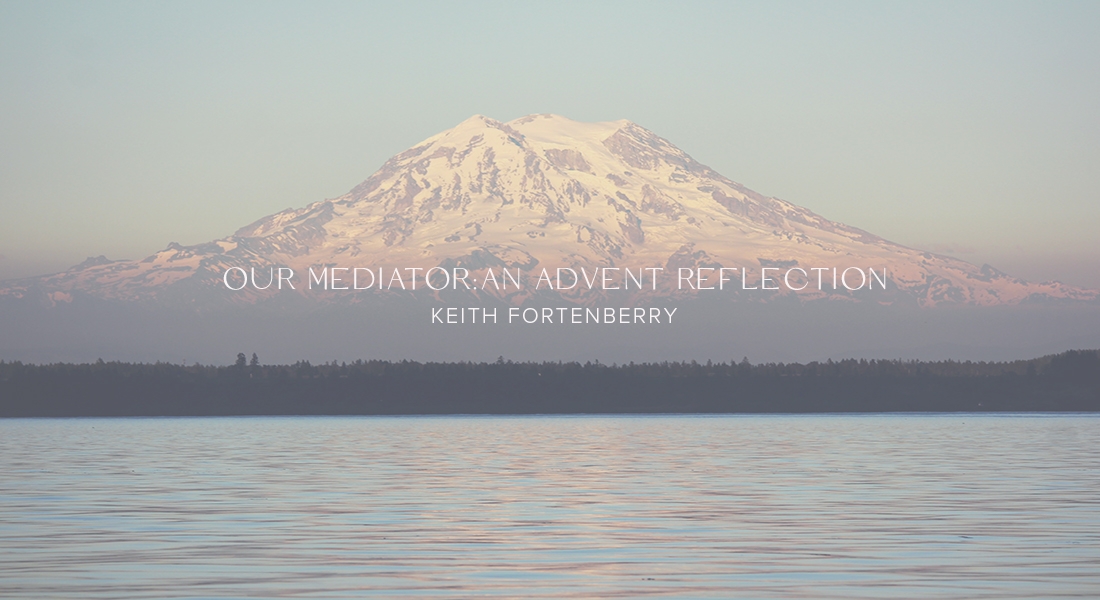 In the previous reflection, we considered how the flesh of Jesus served as a veil to God's glory. In this reflection, we will see how the very thing that separates us from God's glory and presence is the very thing that unites us and grants us entrance.
This is why Jesus says that He is the way, the truth and the life, and that no one comes to Father except through Him (John 14:6).
Paul puts it like this, "There is one God and one mediator, the man Jesus Christ" (Timothy 2:5).
Christ as our High Priest serves as our mediator, acting on our behalf and bringing us to God. For a mediator to function effectively, they must fully represent both parties in a conflict and then execute a solution.
Jesus does this impeccably for He is fully God and fully man. Thus He is able to bring two opposing parties together while fully representing both completely and accurately.
This is why the incarnation is not just so important, but indispensable to our redemption. Through uniting to us in His flesh, Jesus is able to unite us to God through His Divine nature. But notice, it is mandatory that we come through His flesh.
Therefore, it is as humans that we come through the humanity of Jesus into fellowship with the Triune God and share in His eternal life.
The Tearing of Jesus' flesh grants us entrance into the presence of God.
As we noted, the author of Hebrews is underscoring the superiority and finality of the work of Christ our Great High Priest in bringing us into the presence of God.
You recall, that the theme of Jesus' body being the temple means that He is the true dwelling place of God, wrapped in human flesh. When we make the connection to the veil of Jesus' flesh and the veil in the temple, we discover that it is a simple connection to make.
For instance when Jesus died, Matthew informs us that the veil in the temple was torn in two from top to bottom. This signified that access to God has been established once and for all in a new and living way, and that the things that separate us from God have been dealt with. Namely, our otherness, and more so, our sin.
This also signified that it was the work of God in that the veil was torn from top to bottom. In other words, it is God Himself who accomplishes the work of redemption.
In making this connection, it is also clear that Jesus' flesh served as the veil that was torn as it was ripped apart by Roman flails and whips. This is why when Jesus instituted the New Covenant, He said 'this is my body broken for you… this is my blood shed for you for the forgiveness of sins (Luke 22:19-21).
As a human High Priest, Jesus offered Himself as a sacrifice whose body was torn and whose blood is able to save us to the uttermost and sanctify our hearts forever.
It was as His body was abused, beaten, ripped and torn, and His blood spilled that the true veil was torn.
Through His perfect and sinless humanity, He was an adequate offering to die in our stead and based on that achievement, give us full and free access to God. As a Christian, this means that with Jesus and in Jesus we come to God as humans. Redeemed humans washed in His blood and made new in His life.
Therefore we cannot emphasize enough that we come through our shared humanity with Jesus into the triune life and fellowship that He has always enjoyed and now shares with us as one of us.
This is how God brings many sons to glory and remakes redeemed humanity in the image of His Son.
As humans, we have full access into the life of the triune God all because Jesus chose to share our human nature with us and became a temple that could never be destroyed by death, but that destroys death once and for all.
In closing, this Christmas, let us remember that Jesus who came for us came as one of us, and that apart from His humanity, we would have no access to God.