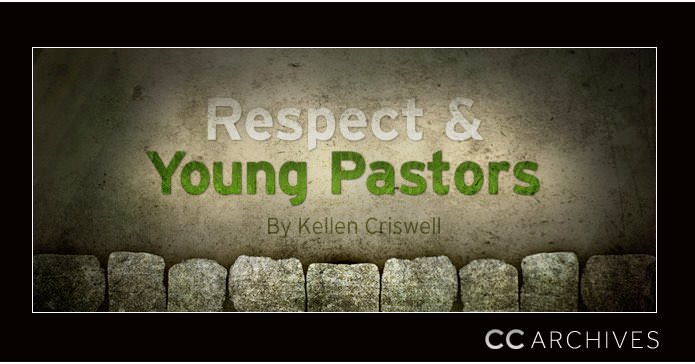 *Note Occasionally we will feature articles from our archives that were well received when they were first published. The following article was originally published on CalvaryChapel.com in 2012.
Most young pastors and church planters think they know everything. As a young pastor and church planter, I know this from personal, sinful experience. Our tendency is to want our sense of calling and giftedness to be enough to command the respect of other Christians, and our leaders. When respect isn't given, we tend to get critical. We criticize those we lead (or want to lead) as being spiritually dumb, or unable to see what God's doing. The concerns they voice aren't taken seriously. We give lip-service about being imperfect, but we really think we're God's gift to the current generation and our community.
Additionally, young pastors and planters are really good at criticizing their leaders. If we feel called to church planting or pastoring, and our leaders show any hesitance, we become lawyers. We defend ourselves (if only internally) and spew accusations as to why our leaders are wrong, out of touch, or outdated. If you're struggling with being that guy, you need to repent. Bludgeoning Christ's people or staging a coup (even if just in your heart) against your leaders isn't God's plan. "Pride goes before destruction … " (Proverbs 16:18). If the local church you're associated with, and its leaders, are hesitant about your call, it's probably for good reason. God confirms our call through our churches and leaders in most cases.
But what about the guy who is genuinely called, who still isn't getting support? The Bible has clear instruction on how you should go about seeking the respect of others. Paul the apostle explains how to handle this issue in 1 Timothy 4:12-16:
"Let no one despise your youth, but be an example to the believers in word, in conduct, in love, in spirit, in faith, in purity. Till I come, give attention to reading, to exhortation, to doctrine. Do not neglect the gift that is in you, which was given to you by prophecy with the laying on of the hands of the eldership. Meditate on these things; give yourself entirely to them, that your progress may be evident to all. Take heed to yourself and to the doctrine. Continue in them, for in doing this you will save both yourself and those who hear you."
What God is saying to young or aspiring pastors and church planters is simple: stop criticizing, and start exemplifying! You're not going to get the respect you desire through what your mouth is saying, but through what your life is saying. Be an example in the following areas:
Word
If I speak like the average teenager, I should expect to get treated like one. If most of the words that come out of my mouth don't build up my hearers, I shouldn't expect to have any voluntary hearers. Do you speak like Jesus, or your favorite "bro" or musician on the internet?
Conduct
Jesus notoriously stayed up late praying over His mission, and rose early to get to work fulfilling His mission. How about you? Is getting up at the crack of noon a tall order? Other than when you're leading, how's your conduct? I'm not saying you can't have fun. But if you conduct yourself like a boy who is the product of American pop culture more than you conduct yourself like Jesus, the Suffering Servant who came to do the hard work of the Father, don't wonder why people don't flock to the things you're trying to lead. Put down the XBOX 360 controller, remote control, IPOD, pick up your Bible, and get to work.
Love
The only people you see Jesus getting short with in the Bible are those leading people to hell. Jesus used His life and ministry to bless the people, not the people to bless His life and ministry. He loved the world, and that led Him to give His life for the world.
Today, a growing number of younger pastors think they're spiritual and justified when they beat Christ's people with a harsh tone or words because they're "prophets." This doesn't mean they have a fore-telling ministry. This means they have a bold forth-telling ministry. They see their role as being the one to call Christians to repent of their sin with boldness. Christ's example, even when He spoke boldly, was one of love. Ours should be too.
Spirit
Spirit has to do with enthusiasm. If you're late, lazy, non-committal, flaky, disconnected, and absent from the gatherings of God's people, don't be shocked when you don't have followers, or when the followers you do have are unproductive like you. Jesus and His apostles were intense. If you want respect, lead with a God-given enthusiasm, cultivated through prayer.
Faith
If people don't see you obeying Jesus with confidence when you don't have all the answers, they won't want to follow you.
Purity
If every dad in your church isn't certain they can trust you with their daughter, wife, or son, they can't follow you. If you're stuck in porn, God knows, and wants to grow you. Take advantage of an accountability tool like Covenant Eyes or something similar, and put impurity to death. Don't become a statistic in the "moral failure" category of church leaders.
Handling the Word (Reading, Exhortation, Doctrine)
If you don't have a vibrant life with Jesus through personal reading, you won't be the kind of man people can follow. You'll be more like the world than the Christ. If you don't have a habit of exhorting people with gracious biblical encouragement, people won't affirm your call. If they don't see you growing in your understanding of and commitment to biblical doctrine, they won't feel you're equipped to counsel them. Be absorbed in the Word, or be ok with people going to others for instruction.
Serving (not neglecting your spiritual gift)
Serving comes before leading. If you can't get on board and contribute to the vision of your leaders through utilizing your spiritual gifts, don't expect them to celebrate when you tell them you're "called to pastor or plant a church."
The Results (1 Timothy 4:15-16)
When young pastors or planters focus on exemplifying the characteristics of godly leadership, they will be godly men, people will be saved through their ministry, and few will despise their youthfulness. I've seen God's Word proven true in my own life on this stuff. When it comes to getting respect, we young guys need to shut our mouths and open our lives.