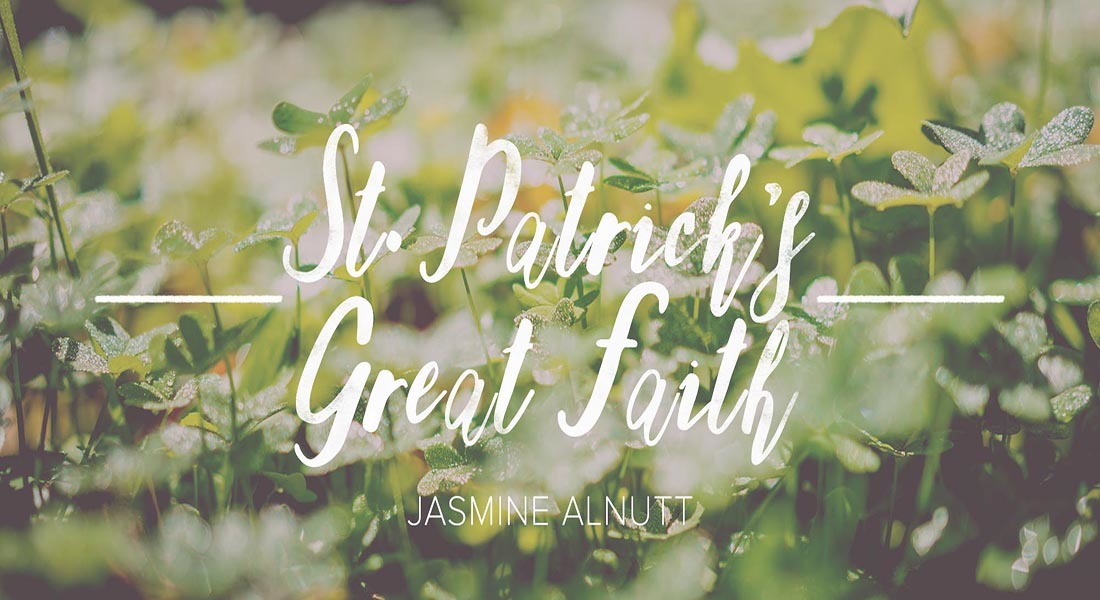 While much of the story of Saint Patrick, as he is commonly known, has been fabricated into legend, he was in reality a fascinating historic figure; in fact, he was a missionary to Ireland and one of the first Christian missionaries after the Early Church Era!
PATRICK LIVED IN THE EARLY 400S.
He was a Roman citizen living in Briton (modern-day England/Scotland), but when he was 16, he was captured by warriors from Northern Ireland. He became their slave, tending their pigs (and having to live like one!), for six years, during which time he truly committed his life to Jesus Christ. One day, he heard a voice say to him, "Soon you will return to your homeland." Shortly thereafter he escaped captivity and boarded a ship bound for Europe.
Once back home in Briton, Patrick received his calling from the Lord in an unusual way. In the middle of the night, he had a vision of a man coming to him from Ireland with countless letters from the Irish people. As he began to read the letters, he said, "I seemed to hear the voice of the same men…and they cried out as with one voice, 'We appeal to you, holy servant boy, to come and walk among us.' I was deeply moved in heart and I could read no further, so I awoke." Patrick recognized this as a clear call from God, but he wisely spent time equipping himself and growing in his Christian faith before returning to Ireland, the land of his captivity.
THIS WAS INDEED A UNIQUE CALL—ONLY GOD COULD PUT IT ON SOMEONE'S HEART TO GO BACK TO THE PEOPLE WHO HAD ENSLAVED HIM!
As Patrick ministered to the pagan people of Ireland, his influence spread far and wide; in fact, by the end of his life, only the "inaccessible south" of Ireland remained untouched by his ministry. He not only shared the Gospel everywhere he went, but he became one of the first Christians to speak out strongly against slavery. In fact, within his lifetime, the entire Irish slave trade was abolished!
HOWEVER, HIS LIFE WAS NOT WITHOUT TRIALS AND OBSTACLES.
In one instance, a British prince came and massacred Patrick's newly baptized converts. What's more, the druids, who practiced black magic, had a grip on the country and its kings that they would not easily relinquish! This is where most of the legends surrounding Patrick originate, as there are many stories of his wars with the druids and how God performed miracles to thwart their magic. Whether these stories were exaggerated or not, what is certain is that Patrick had great faith in his God. He once wrote, "Daily I expect murder, fraud, or captivity, but I fear none of these things because of the promises of heaven. I have cast myself into the hands of God Almighty who rules everywhere." Clearly, his great vision of God compelled him. He had no fear because he knew God was almighty and trustworthy!
PATRICK HAD AN INTIMATE RELATIONSHIP WITH JESUS CHRIST AND A TRULY INSPIRING MISSIONARY VISION.
He once wrote, "I am not able, nor would it be right, to be silent on such great benefits and such great grace as [God] has vouchsafed unto me in the land of my captivity, for this is our recompense, that after we have been corrected and brought to know God, we should exalt and confess His wondrous works before every nation which is under the whole heaven."
"They will come from the east and the west, and they will recline with Abraham and Isaac and Jacob, just as we believe that believers will come from all parts of the world. For that reason, consequently, it is indeed our duty to fish well and diligently, as the Lord admonishes in advance and teaches, saying, 'Come after me and I will make you fishers of people…' and again He says, 'Go therefore into the entire world, proclaim the Gospel to every creature.'"
What incredible vision Patrick had of the glory of God, a vision that would be echoed down through the centuries by those who would take up the call of the Great Commission in obedience to the One who lovingly desires to draw all men to Himself. May we likewise take up that call, like Patrick, to "fish well and diligently" for the lost souls around us!