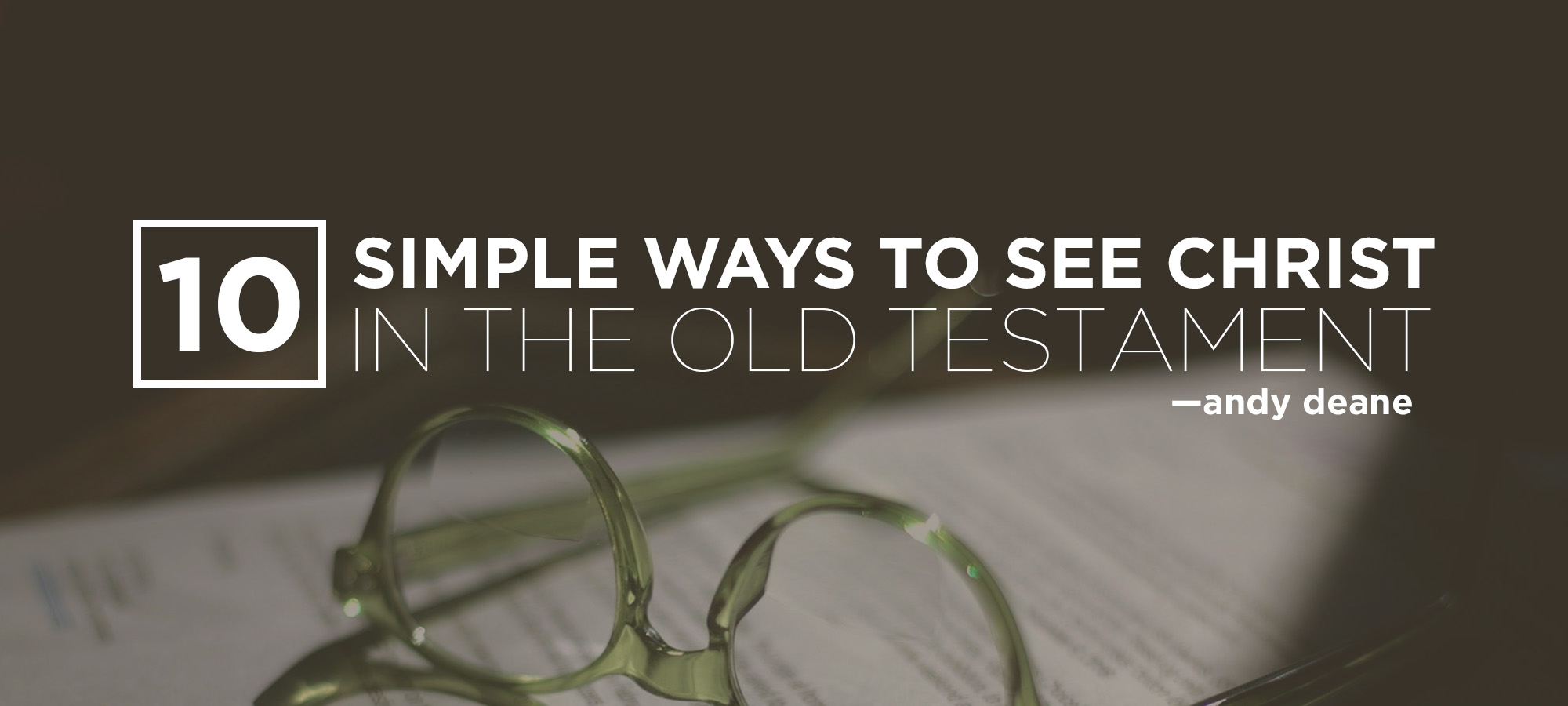 "Don't you know, young man, that from every town and every village and every hamlet in England, wherever it may be, there is a road to London? So from every text of Scripture there is a road to Christ. And my dear brother, your business is, when you get to a text, to say, now, what is the road to Christ? I have never found a text that had not got a road to Christ in it, and if ever I do find one, I will go over hedge and ditch but I would get at my Master, for the sermon cannot do any good unless there is a savor of Christ in it." — C.H. Spurgeon, Lectures to My Students
As we move forward in earnestness to find Christ in the Old Testament, we have to be careful to not lose the historical reality of the Old Testament in the process. The 39 books of the Old Testament are full of real people with real stories in context. We must faithfully study that context to get at the intended meaning of the author before we look for Christ. It is a danger to allegorize the text to look for deeper hidden meanings, and we must not manipulate the passage to get to Christ artificially. He's there on every page, but He's not there in place of the historical reality. There are at least ten legitimate roads to Christ we can take when reading the Old Testament.
1. Messianic Prophecies (Direct)
The best place to start in your search for Christ in the Old Testament is a list of Messianic prophecies that are explicitly about Jesus. These predictions are so specific that even Jewish religious leaders recognized the texts as references to the coming Messiah. Herod in Matthew 2:4-5, "…Inquired of them where the Christ was to be born…they said to him, 'In Bethlehem of Judea, for thus it is written by the prophet.'" These prophecies were fulfilled by Jesus alone, pointing to Him as the Messiah: born of a woman (Genesis 3:15); a descendent of Abraham (Genesis 12:3); a descendant of Isaac (Genesis 17:19); a descendant of Jacob (Numbers 24:17); from the tribe of Judah (Genesis 49:10); heir to King David's throne (2 Samuel 7:12-13), etc.
2. Messianic Prophecies (Indirect)
Some Messianic prophecies seem to apply to both Jesus and an Old Testament person. Psalms 41:9 is an example of this, "Even my own familiar friend in whom I trusted, who ate my bread, has lifted up his heel against me." Bible students may immediately think of Judas betraying Jesus at the last supper, but a skeptic will say this was simply a description of something that happened to David. These prophecies are still relevant, but they lack the same evangelistic gusto of more direct Messianic prophecies. There are many more indirect prophecies than direct ones.
3. Messianic Appearances
A few times in Scripture, Jesus appears in a pre-incarnate, temporary human form to join the story. This physical manifestation is called a Christophany. This is often in connection to the character, "the Angel of the Lord." This Angel and Jesus are both sent from God, claimed to be "I Am," called Lord, guide God's people, receive worship and command the Lord's army. Watch for Christ as an active participant in the redemptive story in the form of this Angel.
4. Messianic Types (Persons)
As we read some of the stories of the people in the Old Testament, we find evident Christ patterns. Typology is when a person prefigures a characteristic of Christ and His work. Examples include: Adam, humanity's first representative, prefiguring Christ as our new representative; David, foreshadowing our great King; Moses, pointing toward the coming Prophet; and dozens more like Joseph, Jonah and Aaron.
5. Messianic Types (Events & Institutions)
Events and institutions also foreshadow Christ. This is readily apparent when reading about the Passover lamb described in Exodus 12 and comparing it with Jesus being called "our Passover Lamb" in 1 Corinthians 5:7. Types can also be found in Israel's feasts, sacrifices and the tabernacle. By analogy we are foretold different aspects of the Savior's life through these descriptions.
6. Messianic References
There are approximately 850 references to the Old Testament quoted in the New Testament. Since New Testament writers aimed to reveal different aspects of Christ's life, reviewing these verses can affirm what New Testament writers thought about Christ as described in the Old Testament.
7. Messianic Titles
Jesus in the New Testament claims many of the titles that God the Father affirms for Himself in the Old Testament. These names include among others: "Light" in Isaiah 60:19-20 and in John 8:12; the "First and Last" in Isaiah 41:4 and in Revelation 1:17; and "Shepherd" in Psalm 23 and in John 10.
8. Messianic Teaching
The teaching of Jesus shows us the heart of God for many of the commands and themes that are found in the Old Testament. Jesus said in Matthew 5:27-28, "You have heard that it was said to those of old, 'You shall not commit adultery.' But I say to you that whoever looks at a woman to lust for her has already committed adultery with her in his heart." Compare and contrast themes like forgiveness, sabbath, atonement, grace and others in the Old Testament with the teachings of Christ and His apostles in the New Testament for clearer understanding and further meditation.
9. Messianic Fulfillment
In the Old Testament, we read about Israel's future safety, blessing and salvation in the context of God the Father. However, many of these promises will be fulfilled only at the start of the millennial reign of Christ. All the salvation promises along with many other promised blessings will only ever happen for Israel because of Jesus. Trace these themes forward to their future fulfillment in Him. Search for phrases like "the day of the Lord" that look forward to Christ's future judgment and blessing.
10. Messianic Timeline
It is beneficial to pause when starting a larger portion of Old Testament scripture to ask yourself, "Where on the redemption timeline does this story take place? Where does the passage fit in the overall scheme of God's plan in moving the world toward the eventual focus point of the crucifixion?" When reading about Abram in Genesis 12, we can pause and think about the progress of the Genesis 3:15 seed prophesy. We now understand the future snake crusher is going to come through a particular family.
These ten roads to Christ in the Old Testament are key aspects to studying the Bible and reflect a portion of the curriculum taught in the Bible Study Methods class at Calvary Chapel Bible College.
Also, you may enjoy other posts in this series:
1. "3 Benefits of Seeing Christ in the Old Testament"
2. "The Best Verse About Jesus from Each Old Testament"
3. "Resources for Seeing Christ in the Old Testament"