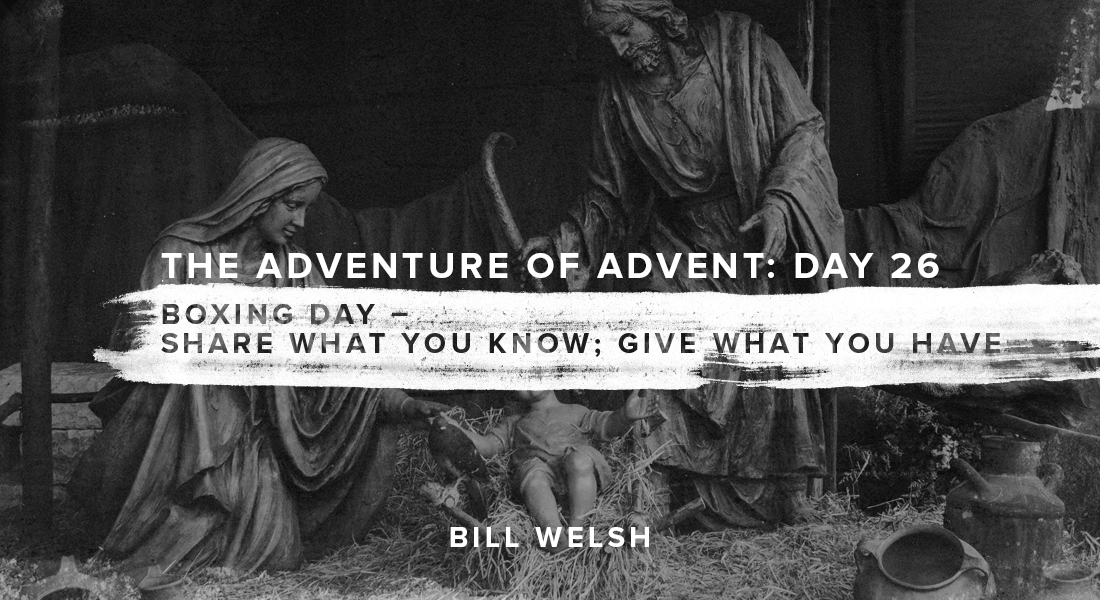 "When the angels had returned to heaven, the shepherds said to each other, 'Let's go to Bethlehem! Let's see this thing that has happened, which the Lord has told us about.' They hurried to the village and found Mary and Joseph. And there was the baby, lying in the manger. After seeing him, the shepherds told everyone what had happened and what the angel had said to them about this child. All who heard the shepherds' story were astonished" (Luke 2:15-18, NLT).
Boxing Day, the day after Christmas is basically about giving some of what you have to those who have less. (We learned that while living in Australia). That's the scene here. Follow me…
What do you do when angels appear in the middle of the night and say, "Your Savior's here," and then fill the formerly "silent night" with exuberant praise? You outrun Usain Bolt into town to search. And that's what they did. They searched for and found the baby, as predicted, wrapped in rags, nestled into a feeding trough.
Perhaps the shepherds' next move was predictable but still commendable. "They told everyone what had happened," admitting they'd been directed by an angel. Understand this: They had to bridge an existing credibility gap. Shepherds weren't held in high regard back then. They were often ceremonially "unclean" due to the death, blood and mess they lived around connected to shepherding. But they "told everyone" what they knew. It took courage, faith, humility, obedience and love for their neighbor. These shepherds were the first human evangelists for Christ.
These shepherds didn't know much. Only that Jesus had arrived. Our theology is far more filled-out with information on the life, ministry, suffering, death and resurrection of Jesus. So let's be "shepherdy."
Don't keep what you know to yourself. "Tell everyone what happened" in Bethlehem, Nazareth, Galilee and Jerusalem. Let's share what we know. It's such great news. It's the Gospel. (And Happy Boxing Day, mates!)