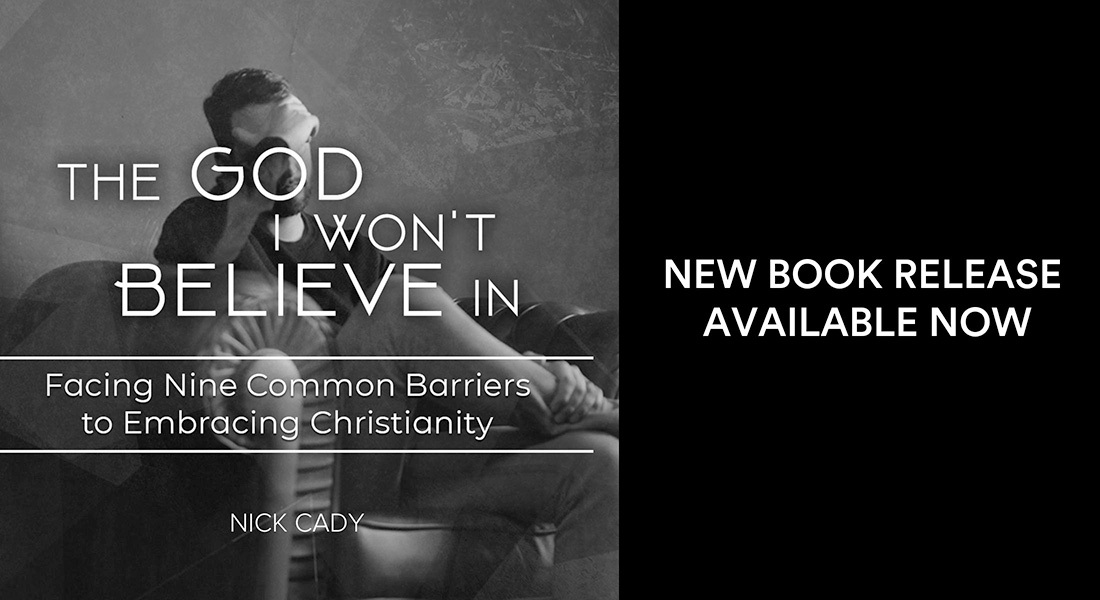 In 2019, I posted a poll online asking people to anonymously answer this question: How would you complete the sentence, "I could never believe in a God who _____."?
My reason for doing this was because I wanted to know if I, as a pastor, was actually addressing the real questions and biggest objections that people are truly struggling with when it comes to Christianity and the Bible. The Bible teaches that what a person believes matters, both now and for eternity, and so I set out on this journey of attempting to honestly face the issues that people themselves said make it hard for them to believe in Jesus and embrace the gospel.
The response to the poll was overwhelming. We shared it on the radio, through blog posts, and by word of mouth, and received several hundred responses, many of which came from people who were not Christians, while many also came from people who said they are Christians, but have honest questions about certain things related to God and the Bible. Those responses, along with other research, quickly highlighted nine common themes.
Based on those themes, I created a series of messages for our church. That series quickly became quite popular on our podcast, website, and radio show. Our church members began requesting we put it on USB drives to share with their friends and family who had expressed some of the objections addressed in the messages. In the years since, we've heard numerous stories from people who discovered the series and told us how it helped them work through their doubts and struggles with faith in Jesus.
That's why this book exists. We all struggle. Even those who already believe struggle with questions about God, Christianity, and the Bible. Wherever you find yourself, God wants to help you move from doubt and unbelief to strengthened faith and belief in the true God of the Bible, and the goal of this book is to give you thoughtful, biblical answers to some of the questions you may have.
Furthermore, this book exists to equip you, so that as you talk with your friends and family members who struggle with some of these questions, you'll be prepared to help them overcome some of these hurdles and, ultimately, put their faith in Jesus.
List of topics covered in the book:
Each chapter begins with the phrase: "I Could Never Believe in a God Who…"
1. A God Who Hasn't Proven His Existence
2. A God Who Gave Us a Faulty Bible
3. A God Who Condoned Genocide in the Old Testament
4. A God Who Creates Hateful, Hypocritical Followers
5. A God Who Suppresses Women and Minorities
6. A God Who Sends People to Hell
7. A God Who Says Some Love is Wrong
8. A God Who Lets Bad Things Happen to Good People
9. A God Who Doesn't Answer My Prayers

Here is an except from Chapter 3:
A few years ago, when I lived in Hungary, I came back to the US to attend a wedding. Rosemary and our kids stayed back in Hungary – I came alone. So, naturally, at this wedding they seated me at a table with some single men. As I got to talking with the guys at my table, it came up in conversation that I am a pastor. The moment they found out I was a pastor, they told me something about themselves: they were gay. I could tell that they were waiting to see how I would react. Would my demeanor change? Would I stop being friendly? These men had certain assumptions about how Christians are, and they clearly wondered if I would be the same! They assumed Christians don't like people 'like them.' They assumed Christians talk a lot about loving people, but when it comes to people like them, Christians are anything but loving. How do I know that? Because they went on to tell me a story. A few years earlier (some of you may remember hearing about this on the news), a well-known pastor from Colorado Springs was caught in Denver…buying meth and visiting male prostitutes. What made the whole situation worse was that this particular pastor was known for being very outspoken against homosexuality and drugs! Then he got caught doing the very things which he had railed against so much as a preacher…hypocrisy in the extreme. Turns out, these guys I was sitting with at this wedding were friends with the particular guy the pastor had been visiting for meth and sex…and they were glad this pastor had gotten busted! In their opinion this was the biggest problem with Christianity: Christians are judgmental and hypocritical! "How are we supposed to take Christianity seriously," they asked me, "if this is what Christians are like?" Why would anyone want anything to do with Christianity if it creates, attracts, or tolerates hateful, judgmental, hypocritical people? The men I met at this wedding are not alone in their feelings. Friedrich Nietzsche, the famous 19th-century German philosopher, was the son of a Lutheran pastor who died when Friedrich was 5 years old. One of his most famous quotes is, "I will believe in their redeemer, when the Christians look a little more like the redeemed."
Closer to home, one of our poll-respondents asked, "How can so much judgment and hate come from a religion which is supposed to be based on love?" Recently, I overheard someone ask, "Why are non-Christians sometimes better moral people than Christians?" Writer Brennan Manning put it this way, "The greatest single cause of atheism in the world today is Christians who acknowledge Jesus with their lips and walk out the door and deny him by their lifestyle. That is what an unbelieving world simply finds unbelievable."
We live in an age when many people believe that if something is true, then it will work. Of course, the flip side is that if something doesn't work, people conclude that it must not be true. Thus, when people see Christians behaving badly, some are bound to respond with, "If these are the kinds of people that Christianity creates, then there must be something wrong with Christianity!" We actually know this empirically – a large research project in 2007 asked people who were not Christians, why they rejected Christianity. The results were really interesting: they showed that most people who reject Christianity primarily do so, not for evidential reasons (science, the Bible, etc.), but for personal reasons. Reasons like being hurt by Christians, judged by Christians, having bad experiences with Christian leaders.
In other words, they've seen Christians act in ways that were unloving, or unethical, or just plain wrong…and eventually they decided, "If this is what Christians are like, I don't want to be one." First of all, if that describes you – I'm sorry. I'm sorry those things happened to you. I'm sorry that you were hurt and let down. I understand on a personal level, because I can tell you that I've been hurt by other Christians. I've been stabbed in the back (and the front!) by other Christians. I've been let down and betrayed. I've been deeply hurt – but I have not given up on Jesus…and I haven't given up on the church. My hope is that as we dig into this topic, you and I can both discover and remember that the bad behavior of some Christians must not become a barrier for embracing the gospel and being a Christian. The stakes are too high.
– The God I Won't Believe In: Facing Nine Common Barriers To Embracing Christianity
Where to purchase:
My hope is that God will use this book to strengthen and equip you in your faith, and that it will be a helpful resource for many people. We have heard from some churches who are using it as the basis for small group studies, and others who are using it as the basis for a series with their youth groups.
You can purchase The God I Won't Believe In through Amazon, in both paperback and digital formats.