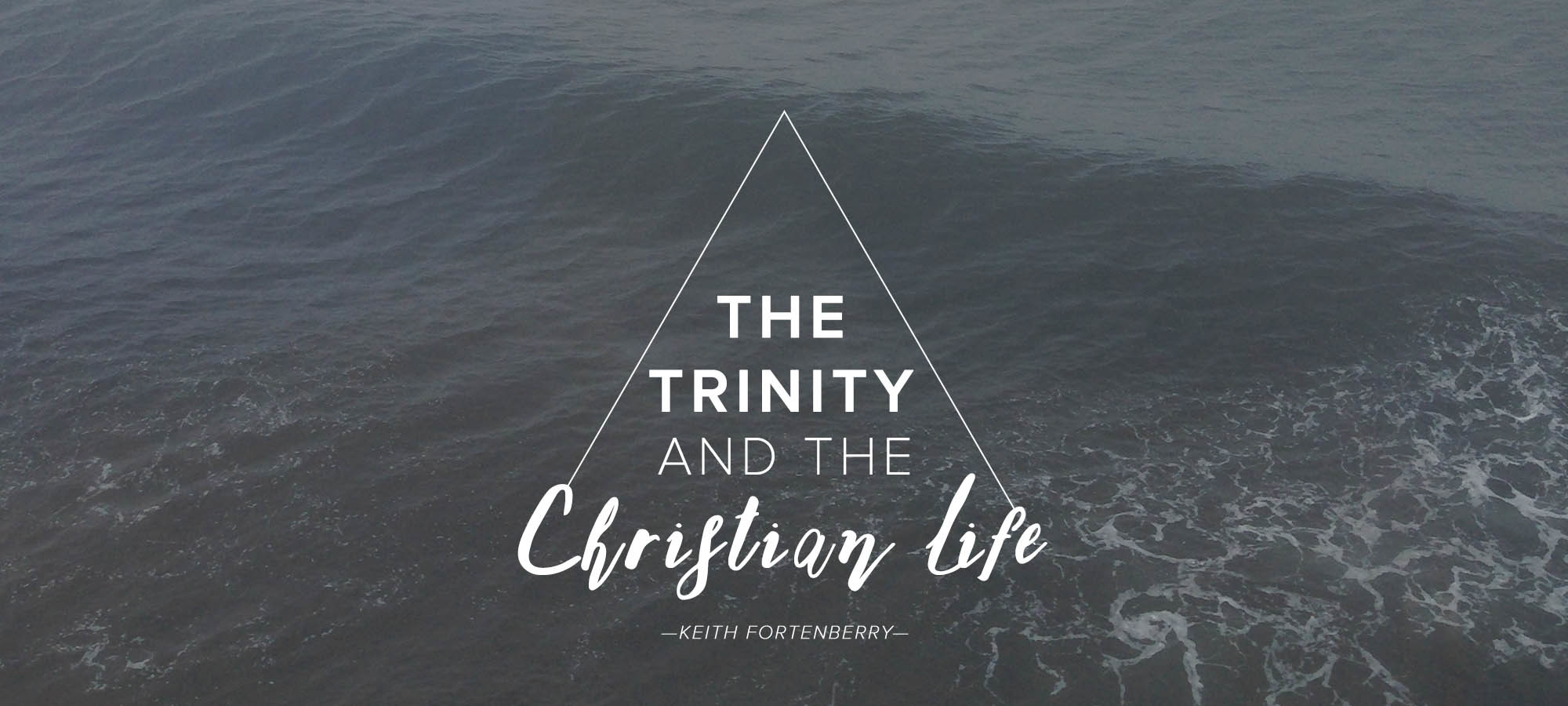 "…And truly our fellowship is with the Father and with His Son Jesus Christ" (1 John 1:3).
In the last article, I spoke of how the Trinity makes the Christian view of God distinct and unique. The aim of this post is to explore the relationship of the Trinity to the Christian life. To begin, I ask you to consider the following statement: The Christian life is a life that participates in the life of the Trinity. That is, the Christian has been invited into the very life of the Trinity, and thus, experiences this life, being drawn into it. Thus, the Christian life is entirely Trinitarian and cannot be truly understood in any other way. Donald Fairbairn goes so far as to say, "The doctrine of the Trinity is the gateway to understanding Christian life" (Fairbairn, 2009, p. 243).
Union with Christ
In order to understand this, we must first understand the nature of our union with Christ, for this is at the very heart of Christianity. We are vitally connected to Christ in His life, death, resurrection and ascension. In the incarnation, God has forever united humanity to Divinity. Therefore, by the incarnation, we participate as humans in the Divine life by the Spirit through the humanity of Jesus Christ, our brother, great High Priest and Living Head. Because He participated in our life as a human, we participate in His life as humans, and His life is a life that is lived within the eternal relationship of the Triune God. Therefore, we are brought into the Trinitarian relationship.
James Torrance puts it like this:
"The prime purpose of the incarnation, in the love of God, is to lift us up into a life of communion, of participation in the very triune life of God" (Torrance 1996, p. 32). Thus we participate 'through the Holy Spirit in the incarnate Son's communion with the Father…'(ibid, p. 9). The point is that through our union with Jesus, we are invited and brought inside the circle of Trinitarian love (Seamands, 2005, p. 60). We participate in the unique love relationship of the Son and the Father in the Spirit.
This is what John has in mind in 1 John 1:3: "…That which we have seen and heard we declare to you, that you also may have fellowship with us; and truly our fellowship is with the Father and with His Son Jesus Christ." John is here saying that they have been included in the fellowship of the Son and the Father, a relationship that is extended to humans through the humanity of Jesus. Jesus Himself speaks to this in John 14. Notice the Trinitarian emphases of Jesus: "…The Spirit of truth, whom the world cannot receive, because it neither sees Him nor knows Him; but you know Him, for He dwells with you and will be in you" (John 14:17).
Here Jesus makes reference to the indwelling of the Spirit, which is how He unites us to participate in His relationship with the Father. "At that day you will know that I am in My Father, and you in Me, and I in you" (John 14:20). Jesus speaks here of what is termed the mutual indwelling of the Son and Father. What is remarkable is that by the Spirit uniting us to Jesus, we are included in this relationship. It is not that we are absorbed into the Divine so that we become Divine, but rather that we are included in the Divine fellowship between the Father, Son and Spirit.
As our great High Priest, in His prayer in John 17, Jesus clearly describes eternal life in terms of Him bringing those whom the Father has given Him into their communion and fellowship. Notice these words in John 17: "As You have given Him authority over all flesh, that He should give eternal life to as many as You have given Him. And this is eternal life, that they may know You, the only true God, and Jesus Christ whom You have sent" (John 17:2-3).
"I do not pray for these alone, but also for those who will believe in Me through their word; that they all may be one, as You, Father, are in Me, and I in You; that they also may be one in Us, that the world may believe that You sent Me. And the glory which You gave Me I have given them, that they may be one just as We are one: I in them, and You in Me; that they may be made perfect in one, and that the world may know that You have sent Me, and have loved them as You have loved Me" (John 17:20-23).
Here it is stated that our union with Christ brings us into the unity of the Godhead, and by that participation, we receive the love of the Father for the Son and become partners with God in the mission of Jesus.
Lastly, Jesus says, "And I have declared to them Your name, and will declare it, that the love with which You loved Me may be in them, and I in them" (John 17:26).
Again, Jesus is saying that through our union with Him, the Father's love for Him will be in us. This may mean that He loves us as He loves Jesus, or that we now love Jesus with the love that the Father has for Him. Perhaps both! One thing is certain; we are included in this unique relationship between the Father and the Son.
The Role of the Spirit
All of these benefits come to us by way of the operation of the Spirit. He is the one who unites us to Jesus by faith. You can recall John 14:17, the Spirit comes to dwell in us. He also unites us to Jesus by baptizing us into His body by uniting us to His life, death, resurrection and ascension (1 Cor.12:12; Romans 6:3-6).
He applies the life of Christ to us and bears witness with our spirits that we are God's adopted children (Romans 8:15,16), as He is the agent who has brought about our adoption as sons of God. As He works the life of God in us, we bear fruit (Galatians 5:22-26) that show we have crucified our flesh by union with Jesus. Paul also says that He intercedes for us when we don't know how to pray (Romans 8:27). From this, it is intimated that even our prayer life is part of the Trinitarian fellowship.
Yet, you may be wondering how all of this is applicable to the Christian life. Good question. Let me offer a few ways in which this is relevant to how you go about your daily discipleship.
1. This is the Christian life.
This is the essence of what it means to be a Christian. This is why Paul would say in Galatians 2:20, "It is no longer I who live, but Christ lives in me." He is not saying his personality is erased, or his personhood swallowed up, but rather that the Christian life is the life of Christ lived out by Christ in and through the people of Christ. And the life of Christ is at its very core a life of perfect communion with the Father in the relationship of the Trinity from all eternity. He allows us to participate in that communion with the Father.
2. This is the basis for the exhortations of Christian living.
For example, Paul would base his appeals to righteous living on these matters as he does in Romans 6 and Colossians 3. The reason it is in this order is that our life flows from the Godhead, by which we participate by the Spirit through the humanity of Jesus in His life, which is a life of communion with the Father.
3. This makes us focus our discipleship efforts on the work of God in us.
We are not people who simply live for God. We are people who God lives in and through. This makes us more aware of our need to rely on Him and find our life, meaning, significance and strength in Him. Discipleship is not something we do for God, it is primarily something He does in us.
4. This raises our awareness of the greatness of this gift of life we have been granted, to participate in God's triune life.
To be swept up in the Divine dance between the Father, Son and Spirit. To see ourselves as living in this joyful, intimate relationship, to be in awe and wonder. To see the true significance of what it is to be a Christian, to raise our view of our lives in light of all this. To be ultimately at a loss for words and enter into a deep felt, overwhelming posture of worship as we contemplate these mighty truths.
Fairbairn, Donald. Life in the Trinity: An Introduction to Theology with the Help of the Church Fathers. Downers Grove, IL: IVP Academic, 2009. Kindle.
Seamands, Stephen A. Ministry in the Image of God: The Trinitarian Shape of Christian Service. Downers Grove, IL: InterVarsity Press, 2005.
Torrance, James. Worship, Community & the Triune God of Grace. Downers Grove, IL: InterVarsity Press, 1996.