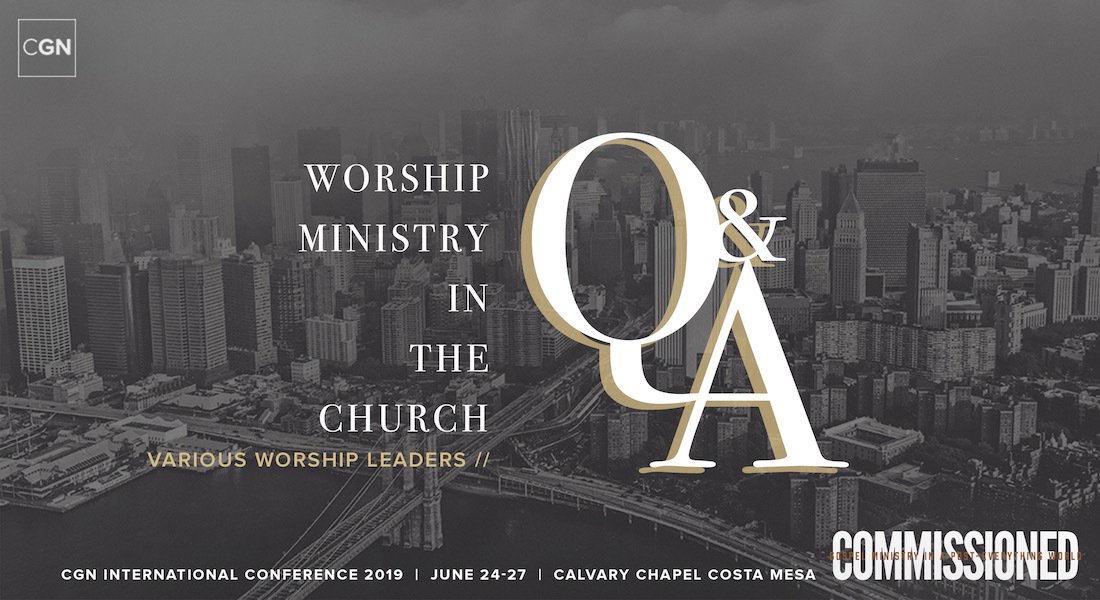 This week we at Calvary Creative have been focusing discussion on the theme, "Why We Worship." We were able to ask a few worship leaders, from different parts of the world, what their thoughts on worship were in their cultural settings:
Calvary Creative:
How is the role of corporate worship/praise valued in your church?
Pankaj Sarkar (Calvary Chapel Kathmandu, Nepal):
I believe since we are created to worship Him only, It is important as the body of Christ that we all take part in cooperate worship. It is important to come and acknowledge His grace, mercy and all that He has done for us.
DK Kim (Mariners Church):
The role of corporate worship is a very high value for Mariners Church. Our Senior Pastor models this by engaging in expressive worship from the front row for every one of our services. There is an expectation and culture that invites everyone into an experience and encounter with God's presence, and any worship leader up front will lead our church through some expression of courageous response to each service. Worship is also valued in how we are resourced. Besides myself, we have three other full-time worship staff as well as a budget that enables us to incorporate contracted, professional musicians who support the weekend experience.
Tony Monto (Calvary Chapel Las Vegas):
Corporate Worship and praise is a core value at Calvary Chapel Las Vegas. Recently within the last five years, we changed our vision statement to start with worship as a core value of ours (Worship our God, Equip our Church, Reach Las Vegas, and Impact the World). All of the material we use to communicate to our church conveys this message. Our prayer for the last 10 years has been that God would begin to stir the hearts of our church for passionate worship, and He has done exceedingly and abundantly beyond what we could ever ask or think.
Kenneth Nek (Calvary Chapel Kampala, Uganda):
Corporate worship is one of the key considerations in our church such that we are very intentional in choosing songs for worship that will not leave them out but will allow them to connect with God. We are sensitive about the keys of the songs(not too high), the simplicity of the songs without being too complex and the straightforwardness to avoid ambiguity so that we can all worship with one voice and in one spirit.
Zach Hodges (Reliance Church):
We place a pretty high value on it. Six songs in our weekend services and most major events also include worship. It's not just warm up for the message.
Jimmy Robeson (Maranatha Chapel):
There is a high value of worship at our church:

. The amount of time spent in our services is about 50% for corporate worship
. Each service from kids church, student services and even home fellowships start with times of worship
. We are writing our own songs and encouraged by the pastors to teach these songs during our gatherings.
. Four people on staff dedicated to worship ministry
. Worship events and other special events that focus on worship
Calvary Creative:
Do you have a vision statement or mission that defines how worship is expressed at your church?
Pankaj Sarkar (Calvary Chapel Kathmandu, Nepal):
We don't currently have one. But I believed worship should be directed only toward God and make sure all glory goes to Him. We need to try to create an environment which helps focus all congregation to God.
DK Kim (Mariners Church):
Yes, we hope "to become a family of worshipers (musicians/singers) who steward and amplify the power and presence of the Holy Spirit in people, songs and environments"
Tony Monto (Calvary Chapel Las Vegas):
Worship is a core value at our church communicated through our Vision Statement. We believe that God has created the church for the primary purpose of worshiping Him. Worshiping God means affirming His worth, expressing our adoration, surrendering our lives to His will, studying His Word, giving generously and serving Him with all our hearts. This is the first and most important purpose for God's people.
As a Worship Ministry, our vision statement is: Our desire is to create a musical environment conducive to genuine worship in the life of His church. This can only happen as we are submitted to His will and empowered by His Holy Spirit. We believe that praise and worship is the act of celebration and displaying our reverence to God. With this in mind, the focus of our worship ministry is to bring the body of Christ into the presence of the Lord, displaying our joy, love and devotion to Him.
Kenneth Nek (Calvary Chapel Kampala, Uganda):
The vision or mission statement at our church is to love and disciple. We cannot love others until we understand and embrace the love and sacrifice of Jesus Christ at the cross. We are very sensitive about constantly expressing His love, for us, through the songs we sing each Sunday so that we will not forget to love others. We are intentional about including a couple of songs about His love on the cross regardless of the theme for that Sunday.
Calvary Creative:
How does discipleship (ie… making disciples) look practically in your worship ministry?
Pankaj Sarkar (Calvary Chapel Kathmandu, Nepal):
Every week we meet and talk about how we are doing. And every week not forgetting to spend time in the Word and Bible study. It is mandatory for the worship team to seat in this fellowship if anyone wants to serve.
DK Kim (Mariners Church):
Discipleship happens through our church-wide discipleship journey called Rooted (for 10 weeks) which eventually launches into Life Groups. Living life in community is one of our highest values as a church. In addition to that, discipleship at varying levels happens through our monthly choir rehearsals as well as quarterly worship team training events.
Tony Monto (Calvary Chapel Las Vegas):
Whether it be in local church ministry, church planting or in missions, we are actively pursuing people in our ministry to equip them to lead worship in whatever context God is calling them to. Whether that is through internships, one-on-one discipleship, songwriting, discipleship through our on-campus high school (Calvary Chapel Christian School), our heart is to help raise up the next generation of worship leaders.
In addition to that, we desire to serve those who are currently active in the worship ministry. We are always looking for ways to offer growth and development in character, leadership and craft, and to build community in our worship ministry.
Kenneth Nek (Calvary Chapel Kampala, Uganda):
Discipleship is one of the key areas in our worship ministry. Every Friday two people from the team will lead in fellowship. One to choose songs and lead the worship and another to teach and lead us through a discussion based on a biblical text, inspired by the Holy Spirit. It is the responsibility of the people leading that week to choose the next leaders for the next week. We have seen tremendous growth in confidence and biblical understanding among our team members, and also the desire and hunger to study and to grow in His word.
Zach Hodges (Reliance Church):
We've got dedicated overseers for children's, jr. high and high school worship. As young people show interest or potential, we try to bring them along into the larger group, often pairing them with more experienced people. Establishing this culture is something I've worked on since it does come at a cost to the "quality" at times. But everyone agrees it's important, and it's definitely starting to show some fruit after a few years of work.
Jimmy Robeson (Maranatha Chapel):
A big part of the discipleship process with me is one-on-one time with those interested in serving with us. Many people aren't quite ready to join the team, but I spend time with them, helping them develop their skills and a heart for worship. We have a worship internship that includes a small group of young people with a heart for worship. Our weekly writing sessions are discipleship groups that focus on digging into the word of God and writing songs for our church to sing.
Calvary Creative:
How do you choose your worship teams and schedules?
Pankaj Sarkar (Calvary Chapel Kathmandu, Nepal):
We do schedule them since we have so many players. We have schedules for three months ahead. We rotate the team members, but we observe them if they are new on the team. We want to make sure that person really understands that we are here to serve not to be served.
DK Kim (Mariners Church):
We choose our worship teams and schedules by dividing the musicians from our vocalists. Our music director will book all musicians, and for the most part, keeps the core band consistent (drums, keys, electric, percussion) and places complementary pieces around that core band. Our worship director schedules all vocalists. We tend to do vocal teams that are around three to five singers deep, in addition to the worship leaders. Worship leaders are scheduled by the worship pastor (me) and tend to be a rotation of twice a month for each worship leader. There is also a high value for co-leading the services so there will almost always be two worship leaders that lead the weekend together.
Tony Monto (Calvary Chapel Las Vegas):
We have a high standard for excellence in our worship ministry to skillfully lead worship for the local church. Auditions are always open to join the worship team. We have a two-part auditioning process which includes:
First Audition: Hearing them at their best (favorite song to play or sing), and at their worst (giving them a song to play or sing on the spot)
Second Audition: Hearing them with practice (giving them songs to rehearse for a week)
We are honest with each person through this process. If they are not ready to be in the worship ministry, we help provide or direct them to resources that will grow them in their craft.
We utilize Planning Center for our worship ministry, which has been a huge resource for the multiple services we are scheduling for. We prayerfully consider each month as far as scheduling our worship teams. As we schedule each month, we consider a few things such as a different direction of the Holy Spirit in regards to our own liturgy, special dates coming up in our services, choir Sundays, specific requests from our pastor, volunteer availability, etc.
Kenneth Nek (Calvary Chapel Kampala, Uganda):
On a regular basis, young people will come to me expressing their desire to be a part of the team. I will make an appointment with them on the Saturday before practice. I normally start by asking them why they want to join so as to hopefully know their motives. Then check their voices or instrumentation skills to see their level and know what to do next. If they pass, I then go ahead to inform them of the waiting period of three months, if they are new to the church. I also inform them of the requirements for their Saturdays to be free, at least three out four Saturdays, for practice.
We have three teams, one for our first service in Luganda, a local language between 8:15 am to 9:45 am, another for two English services, 10:15 am and 12:15 pm for two hours each and the third one for our francophone brethren from 3 pm to 5 pm. I have two assistants who I rotate with on a regular basis.
Zach Hodges (Reliance Church):
We hold auditions for worship team membership, and there's an application process. We have a team for Saturday service and a team for Sunday, each built around a different leader. (No paid worship staff, a church of over 1,000, so we have to be careful not to burn out!) We deliberately don't have consistent teams or bands. The leaders get together every other month to make the schedule together because it's mega hard and complicated. We combine people's availability, how often they serve, their skill level, the experience level of the leader, stylistic pairings, development pairings, etc. to create teams for each week.
Jimmy Robeson (Maranatha Chapel):
On Wednesday nights, I lead our team (Maranatha Worship). The singers, keyboard players and string players, who are all volunteers, let us know their availability. That usually means about two times per month for each of them. We hire our drummer and bass player.
On weekends, we are split between John Wickham, Kayla Wickham, Daniel Bentley and me. We each lead a weekend and support the others on the other weekends by playing acoustic, piano keys, vocals etc. John Wickham's band are all volunteers from the church. When Kayla, Daniel or I lead on a weekend, its similar to the Wednesday night setup.
Calvary Creative:
What role does your senior pastor have in planning and defining worship? What does that relationship look like for you?
Pankaj Sarkar (Calvary Chapel Kathmandu, Nepal):
I think it is important, as a senior pastor, we need to explain what we want or how we want our worship team to take part in cooperate worship. For me, as a senior pastor and worship leader, I make it clear that this is what I want. I think that helps. I really enjoy hanging out and sharing my experience with them.
DK Kim (Mariners Church):
The senior pastor is our lead worshiper and models this at every service as mentioned earlier. He gives our team a tremendous amount of trust and freedom to lead each experience and simply cares that people meet with Jesus in our times of worship. Every once in a while, the pastor will have a song "request" to follow his message, especially if there is a specific response he wants to lead our people toward. Another way that our pastor is involved is in how he includes our weekend team in all of the series planning meetings so that we can all get on the same page and lock into what is ahead. It also helps that the senior pastor and worship pastor are friends.
Tony Monto (Calvary Chapel Las Vegas):
Our senior pastor plays a significant role in defining what our worship ministry looks like. We believe that the worship leader and senior pastor's relationship is vitally important, especially for the value of worship in a church. We have weekly meetings with our senior pastor, and he has always opened his door for any questions or input we are considering. Our heart is to involve him as much as possible in worship because we desire for the teaching and the worship to be knit together by the Holy Spirit. We don't specifically pick songs based on the topic of teaching or areas of teaching, but our prayer is that the Holy Spirit would lead us and knit the two together.
We have a great relationship with our pastor. If he asks us to do a song, no matter what song it is, we do it, because we trust in the leading of the Holy Spirit through our pastor. But he loves our input as well, and there's a special trust that he has in us to lead the congregation in worship. The trust goes both ways. Our pastor is passionate about worship, so even in the songwriting process, he is involved. I think one of the most important relationships for healthy worship in the body of Christ is the relationship between the pastor and the worship leader. Without unity, worship will fail.
Kenneth Nek (Calvary Chapel Kampala, Uganda):
I normally report back to our senior pastor about what is happening in the worship ministry, their spiritual and technical growth and their personal lives when necessary. He also gives me feedback from his observations. He is very supportive of my ideas and initiatives for the ministry. He also gives me free reign to determine what's best for the ministry.
Zach Hodges (Reliance Church):
He's fairly hands-off, mostly trusting me as the leader to make things run well. For the big services, we collaborate more, and I try to have fairly regular check-ins about how things are going. (It's an unusual situation because he's also my father-in-law)
Jimmy Robeson (Maranatha Chapel):
Ray and Shawn don't specifically pick songs or approve songs. They trust us to pick appropriate songs. They do recommend songs that they are loving and sometimes ask for specific ones they know might fit their message. Shawn and I meet every week to talk through the Wednesday night message, and I tend to try to pick songs that fit from that conversation.
We would like to thank all the worship leaders who took time to share their thoughts on these questions!