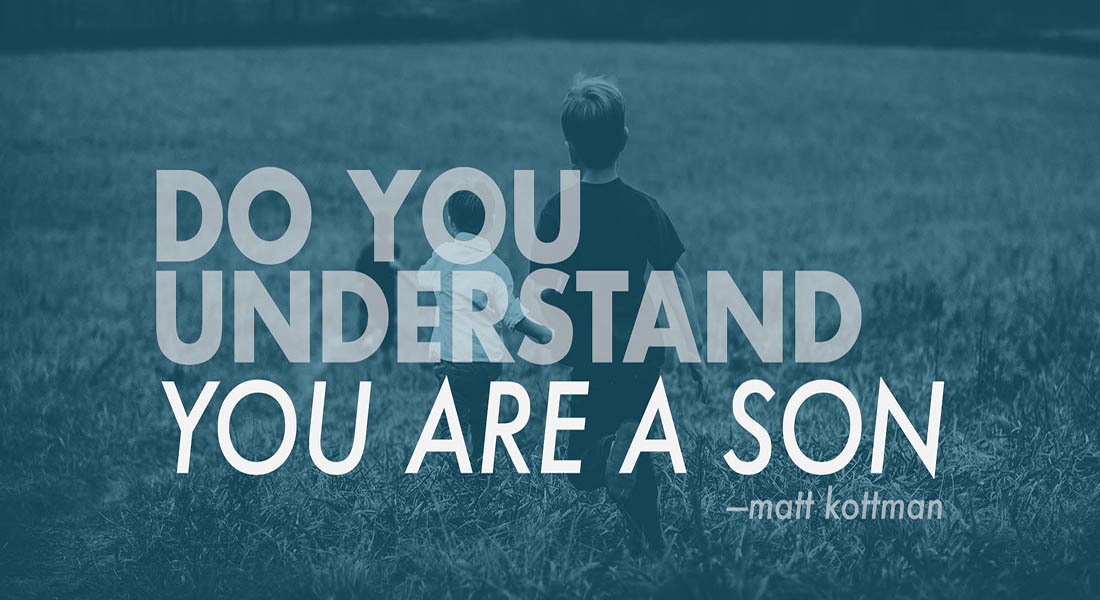 Oh, that we could begin to explore what it means to be in relationship with God. We have several metaphors that together help us gain an understanding of who we are in relation to God. Jesus called us servants, but if that was as far as it went, all that is emphasized is God's sovereignty and authority over us. Our relationship doesn't stop there, it progresses into at least two other significant realms, namely as sons and the bride.
Jesus is the True Son
God is a Father. In fact, His primary role is as Father. Before He created, sustained or redeemed, He and His eternal Son were always in loving relationship. When we speak in the category of being sons, we must recognize that there is only one begotten of the Father, and He is full of grace and truth (John 1:14). From the beginning, the Son has been with the Father. He is one with Him in nature and substance. He is the exact image of God (Colossians 1:15; Hebrews 1:3). If you have seen the Son, you have seen the Father (John 14:7-9). Who else can claim such a sonship!? Jesus is the true Son.
Every Other Son Fails
Throughout Scripture, God has given the title son to others, beginning with Adam (Luke 3:38) but also of the children of Israel (Exo 4:22) and even King Solomon (2 Sam 7:14). But as you read through Scripture, you see how each of these sons fail to reflect God as their Father. Adam ate the forbidden fruit, Israel wandered in the wilderness with stubborn hearts, and Solomon went after the gods of his wives. As far as being true sons go, they fell terribly short.
We Are Sons by Adoption
This is the beauty of the gospel of Jesus the true Son. He is well pleasing to the Father, and the Father loves Him supremely (Matthew 3:17; 17:5). This is where it becomes mind-blowing for us. Although we were children of wrath because of our rebellion (Ephesians 2:3), we receive the adoption as sons (Galatians 4:5). Now this is the key to the whole thing: Our sonship is not simply our own; it is Jesus' Sonship. Think about this for a second. We have Jesus' Sonship! Galatians 4:6 tells us that, "God has sent the Spirit of his Son into our hearts…" That means that the Sonship we have (unlike Adam, Israel or Solomon) is the relationship of Jesus the Son to the Father! The inheritance that belongs to Jesus is ours too (Romans 8:17). We truly live out the life of God's Son (Galatians 2:20), and thus the Spirit graciously applies the pleasure of the Father on the Son to you and me. The intimacy of the Son is given to us, that we may cry "Abba Father!" Do you know that you are sons? Now you ladies may struggle at being called sons, but know that this term has to do with the Sonship of Jesus applied to you, and know that us men have to deal with being called the Bride.
How Should We Respond?
1. Learn to relate to God as Father not based upon your perfect obedience, but the Son's perfect obedience on your behalf.
2. You can address God as your Father in every struggle. "Abba," a term that is intimate, which is the simplest word to pronounce on the youngest of lips is yours to utter to God. The title Abba appears three times in Scripture once on Jesus' own lips during His Gethsemane temptation (Mark 14:36; Romans 8:15; Galatians 4:6).
3. You can trust your Father to strengthen you as the true Son lives through you in all your temptations today?
4. As sons, we do not derive our relationship with God through our service but through the Sonship that is applied to us.