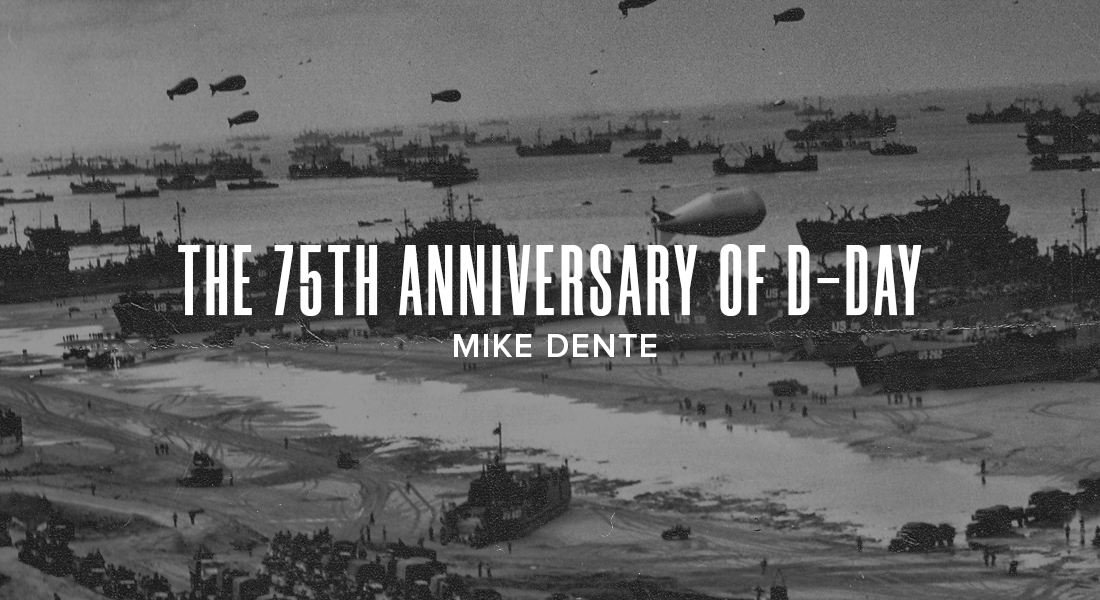 Thursday, June 6, 2019, marks the 75th anniversary of the D-day invasion of France by American and Allied forces.
The upper Normandy region has doubled in population this week. It's impossible to find a hotel, difficult to lock down an Airbnb, the main highway, the N13 that links Cherbourg to Caen is closed to allow the passage of the world leaders who have come to remember. In fact, it's more accurate to say, the French have never forgotten. From the first time I visited Normandy, I've heard—from people of all ages and with deep sincerity—"We will never forget." True to their word, this week has served as proof in the form of conferences, films, reenactments and parachuters jumping from real C-47 paratrooper airplanes within view from the freeway! Add to that the many people dressed authentic 1940's US military uniforms and French Resistance fighters. Traffic has been slowed to a crawl due to all the Jeeps, Ambulances and Military transportation vehicles from the day. To be honest, there are times when it feels like we are on the set of a World War II movie.
In quieter times, I like to take friends and family to the D-Day Memorial in Colleville-sur-Mer, (otherwise known as Omaha Beach.) There is nothing like surveying the field of crosses and stars of David which stand up from the perfectly manicured lawn like stalks of wheat in an immense harvest. I've walked through the crosses in the rain when hardly a soul was present; I've sought shelter under the trees while the sun beat down and the grounds were covered with visitors from all over the world. I've never gotten over the prevailing hush as one looks over the thousands of lives laid down to save Europe from Nazi oppression.
Last time I visited this sacred ground, it was a particularly cold day with a light wind sweeping off the shore finding its way into my bones. We walked over to the edge of the Memorial to a stone wall that stands waist high to take in the breathtaking view of the beach. Three shades of blue appear to be painted as if by the brush strokes of the wind, sun and waves. The beach itself, covered with white sand, so quiet, it could have been a postcard picture of any other place in the world. If it were not so terrible, not so… hallowed. We met a Veteran from the War in a wheelchair. He wore a picture of himself in his youth with the phrase "Forever young" printed on the bottom. We talked for a moment and thanked him for his service. As we walked back to the car, I mulled over the words of the troops assuring General Eisenhower before loading up, "Don't worry about it General, we'll take care of things for you."
And the freedom we enjoy today is proof that they kept their word.
Even amongst friends, the ride home is less talkative. It takes some time to process through the heaviness of such a scene. As I drove home that day, I couldn't help thinking about all that's changed since the invasion. Here I was, a US-born citizen, a pastor of a church in Paris, France, living in a suburb that as I was told by a man who lived there during the Occupation, was once "inhabited by German officers in black uniforms."
I wouldn't be here, nor would my church, nor would many of the gracious people I've met over the years in France. Those men who gave their lives that day are heroes.
As I pondered over all that I had taken in that day, I was reminded of a place in Scripture that also describes heroes of the faith who paid the ultimate price. Theirs was not so much as soldiers but as those who lived by faith and testified in death to God.
"Women received their dead raised to life again. Others were tortured, not accepting deliverance, that they might obtain a better resurrection. Still others had trial of mockings and scourgings, yes, and of chains and imprisonment. They were stoned, they were sawn in two, were tempted, were slain with the sword. They wandered about in sheepskins and goatskins, being destitute, afflicted, tormented— of whom the world was not worthy. They wandered in deserts and mountains, in dens and caves of the earth" (Hebrews 11:35-38).
Those of whom the world wasn't worthy… They are heroes also, heroes for eternity. We don't know their names, but if not for them, something great would be missing. They lived and gave their lives in the image of the Savior. Who didn't hold on to His divine privilege as we often do our own rights. He humbled himself. Jesus took on our humanity, lived in obedience and gave his life to end the wretched oppression of sin and death that keeps humanity in the Devil's clutches. Our lives will not be the same because of His great sacrifice and life now filling our mortal bodies. That's the path those amazing believers of the past followed. Each one had a role to play in the glorious work of God throughout the ages. We may not know the impact now, we may not even get to visit the place where they fell for the Kingdom, but we long to join them in Heaven.
That's when my mind turned to the many unsung heroes who are still tortured, executed, imprisoned and excluded for their faith today.
These men, women, children, and even the elderly lay down their lives, oftentimes willingly. We know they are given a special measure of grace, that they receive eternal rewards, but we also know they cry real tears. Some still hunger and thirst, crying out for proper medical attention. They pray with all they have within them for freedom. Their pain is real, and their lives will probably never go back to what we call normal. These are my heroes too. They probably would have chosen a different lot for their lives, if they had been given the chance. But what a precious place they will have in the Kingdom.
"Remember the prisoners as if chained with them—those who are mistreated—since you yourselves are in the body also" (Hebrews 13:3).
Remembering these things has given me a new perspective. I want to remember those men fallen on June 6, 1944. In the same way, I want to remember those saints who died through persecution. I also want to remember those who are suffering right now for the name of Jesus.
It's true, we can petition our Representative on their behalf. But there is more. We can subscribe and support ministries and missionaries that are involved in these very points of conflict. And still, we need to pray. May we never forget them and may we pray for them as we do for our own family. This is the hardest part. To be honest, I need to pray that the Lord would remind me to pray!
That brings me to my last point, knowing that it's not by works we are saved, we need the Spirit in our lives. In our world today, anyone is on the front lines, in the image of a paratrooper who is willing to live openly for Jesus. We need His Spirit because we are sinners and sometimes we do fall. But the Lord will help us get up. He will even rescue us and bring us through to a place that reflects His love and grace in flesh and bones. So let's remember the heroes of the past and present. Let's especially not forget the One who through His ultimate sacrifice, became the greatest Hero to the glory of the Father.