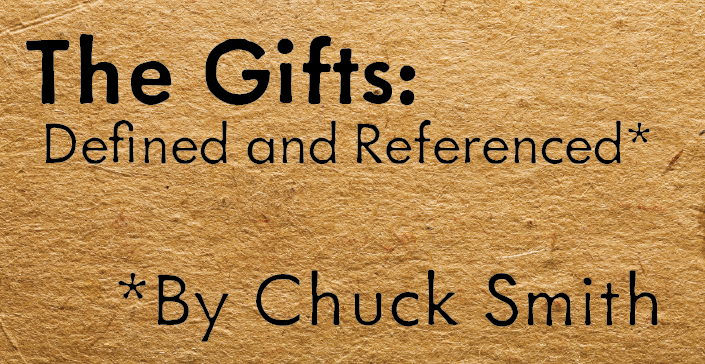 Word of wisdom- A word of wisdom comes when critical issues arise and important decisions must be made. It is a wise word that is so right it brings divided factions together.
1Kings 3:25-27 And the king said, "Divide the living child in two, and give half to one, and half to the other." Then the woman whose son was living spoke to the king, for she yearned with compassion for her son; and she said, "O my lord, give her the living child, and by no means kill him!" But the other said, "Let him be neither mine nor yours, but divide him." So the king answered and said, "Give the first woman the living child, and by no means kill him; she is his mother."
Word of Knowledge- What is the word of knowledge? It is information given to us supernaturally, knowledge of things that we could not know through natural acquisition or study.
Acts 5:1-4 But a certain man named Ananias, with Sapphira his wife, sold a possession. And he kept back part of the proceeds, his wife also being aware of it, and brought a certain part and laid it at the apostles' feet. But Peter said, "Ananias, why has Satan filled your heart to lie to the Holy Spirit and keep back part of the price of the land for yourself? While it remained, was it not your own? And after it was sold, was it not in your own control? Why have you conceived this thing in your heart? You have not lied to men but to God."
Teaching- The spiritual ability to take the truth from the Word of God and explain it clearly so that converted people can under- stand it and apply those spiritual truths effectively to their daily lives.
Mat 7:28-29 And so it was, when Jesus had ended these sayings, that the people were astonished at His teaching, for He taught them as one having authority, and not as the scribes.
Faith- The spiritual ability from the Lord to see what isn't, believe it to be, and trust God to do it in His way and time.
Acts 27:22-25 And now I urge you to take heart, for there will be no loss of life among you, but only of the ship. For there stood by me this night an angel of the God to whom I belong and whom I serve, saying, "Do not be afraid, Paul; you must be brought before Caesar; and indeed God has granted you all those who sail with you.' Therefore take heart, men, for I believe God that it will be just as it was told me.
Gifts of healings- The spiritual ability to heal someone who is sick. God uses certain people in helping others to believe that God will heal them.
Acts 3:4-7 and fixing his eyes on him, with John, Peter said, "Look at us." So he gave them his attention, expecting to receive something from them. Then Peter said, "Silver and gold I do not have, but what I do have I give you: In the name of Jesus Christ of Nazareth, rise up and walk." And he took him by the right hand and lifted him up, and immediately his feet and ankle bones received strength.
Gift of miracles- The spiritual ability to do works of a supernatural origin and character, a miracle is something that is humanly impossible but divinely simple.
John 2:7-9 Jesus said to them, "Fill the waterpots with water." And they filled them up to the brim. And He said to them, "Draw some out now, and take it to the master of the feast." And they took it. When the master of the feast had tasted the water that was made wine, and did not know where it came from (but the servants who had drawn the water knew), the master of the feast called the bridegroom.
Prophecy- The spiritual ability to speak forth the mind and counsel of God. The prophets in the body of Christ were called to speak forth the word of God about present and future events, as well as edify, comfort and encourage believers within the body of Christ.
Acts 21:10-11 and as we stayed many days, a certain prophet named Agabus came down from Judea. When he had come to us, he took Paul's belt, bound his own hands and feet, and said, "Thus says the Holy Spirit, "So shall the Jews at Jerusalem bind the man who owns this belt, and deliver him into the hands of the Gentiles."'
Discernment of Spirits- The spiritual ability to discern between the spirit of evil and of God, the flesh and the spirit, and truth and error, before the fruit is evident. Not the gift of suspicion.
Acts 16:16-18 Now it happened, as we went to prayer, that a certain slave girl possessed with a spirit of divination met us, who brought her masters much profit by fortune-telling. This girl followed Paul and us, and cried out, saying, "These men are the servants of the Most High God, who proclaim to us the way of salvation."And this she did for many days.But Paul, greatly annoyed, turned and said to the spirit, "I command you in the name of Jesus Christ to come out of her." And he came out that very hour.
Helps Ministry- Those who help…The spiritual ability to come alongside others and support them and their ministry in physical ways.
2 Timothy 1:16 The Lord grant mercy to the household of Onesiphorus, for he often refreshed me, and was not ashamed of my chain;
Exhortation- People with the gift of exhortation encourage and urge us to put into action the things we know we should be doing.
Acts 4:36 And Joses, who was also named Barnabas by the apostles (which is translated Son of Encouragement), a Levite of the country of Cyprus,
Giving- Ability to give financially or materially above and beyond…
Acts 4:37 Baranabas…having land, sold it, and brought the money and laid it at the apostles' feet.
Leading or administration- The spiritual ability to lead a group of people in a deep walk with the Lord, a great mission from God or even within church government.
Genesis 41:39-40 Then Pharaoh said to Joseph, "Inasmuch as God has shown you all this, there is no one as discerning and wise as you. You shall be over my house, and all my people shall be ruled according to your word; only in regard to the throne will I be greater than you."
Mercy- The ability to express compassionate loving action and lift up the one who is downtrodden and to do it joyfully.
Mat 9:35 Then Jesus went about all the cities and villages, teaching in their synagogues, preaching the gospel of the kingdom, and healing every sickness and every disease among the people.But when He saw the multitudes, He was moved with compassion for them, because they were wearyand scattered, like sheep having no shepherd.
Evangelism- Preaching is declaring or heralding the truth of God to bring people to a saving knowledge of Jesus Christ.
Acts 2:40-41 And with many other words he testified and exhorted them, saying, "Be saved from this perverse generation…Then those who gladlyreceived his word were baptized; and that day about three thousand souls were added to them.
Tongues- The spiritual ability to speak an unknown foreign language without learning it beforehand. The gift of tongues is to be used publicly to bring praise to God. Speaking in tongues also strengthens your walk and gives you the power to commune with God on a deep, spiritual level.
Acts 10:44-46 While Peter was still saying these things, the Holy Spirit fell on all who heard the word. And the believers from among the circumcised who had come with Peter were amazed, because the gift of the Holy Spirit was poured out even on the Gentiles. For they were hearing them speaking in tongues and extolling God.
Interpretation- An interpretation gives the sense or meaning of an utterance in tongues, by the spirit, without learning the language beforehand.
1 Corinthians 14:26-28 What then, brothers? When you come together, each one has a hymn, a lesson, a revelation, a tongue, or an interpretation. Let all things be done for building up. If any speak in a tongue, let there be only two or at most three, and each in turn, and let someone interpret. But if there is no one to interpret, let each of them keep silent in church and speak to himself and to God.
*The gifts of the Holy Spirit are found in 1 Corinthians 12 and Romans 12.