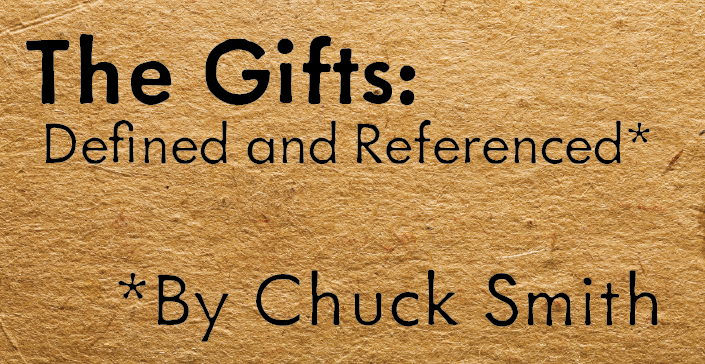 Word of wisdom- A word of wisdom comes when critical issues arise and important decisions must be made. It is a wise word that is so right it brings divided factions together.
Word of Knowledge- What is the word of knowledge? It is information given to us supernaturally, knowledge of things that we could not know through natural acquisition or study.
Teaching- The spiritual ability to take the truth from the Word of God and explain it clearly so that converted people can under- stand it and apply those spiritual truths effectively to their daily lives.
Faith- The spiritual ability from the Lord to see what isn't, believe it to be, and trust God to do it in His way and time.
Gifts of healings- The spiritual ability to heal someone who is sick. God uses certain people in helping others to believe that God will heal them.
Gift of miracles- The spiritual ability to do works of a supernatural origin and character, a miracle is something that is humanly impossible but divinely simple.
Prophecy- The spiritual ability to speak forth the mind and counsel of God. The prophets in the body of Christ were called to speak forth the word of God about present and future events, as well as edify, comfort and encourage believers within the body of Christ.
Discernment of Spirits- The spiritual ability to discern between the spirit of evil and of God, the flesh and the spirit, and truth and error, before the fruit is evident. Not the gift of suspicion.
Helps Ministry- Those who help…The spiritual ability to come alongside others and support them and their ministry in physical ways.
Exhortation- People with the gift of exhortation encourage and urge us to put into action the things we know we should be doing.
Giving- Ability to give financially or materially above and beyond…
Leading or administration- The spiritual ability to lead a group of people in a deep walk with the Lord, a great mission from God or even within church government.
Mercy- The ability to express compassionate loving action and lift up the one who is downtrodden and to do it joyfully.
Evangelism- Preaching is declaring or heralding the truth of God to bring people to a saving knowledge of Jesus Christ.
Tongues- The spiritual ability to speak an unknown foreign language without learning it beforehand. The gift of tongues is to be used publicly to bring praise to God. Speaking in tongues also strengthens your walk and gives you the power to commune with God on a deep, spiritual level.
Interpretation- An interpretation gives the sense or meaning of an utterance in tongues, by the spirit, without learning the language beforehand.
*The gifts of the Holy Spirit are found in 1 Corinthians 12 and Romans 12.