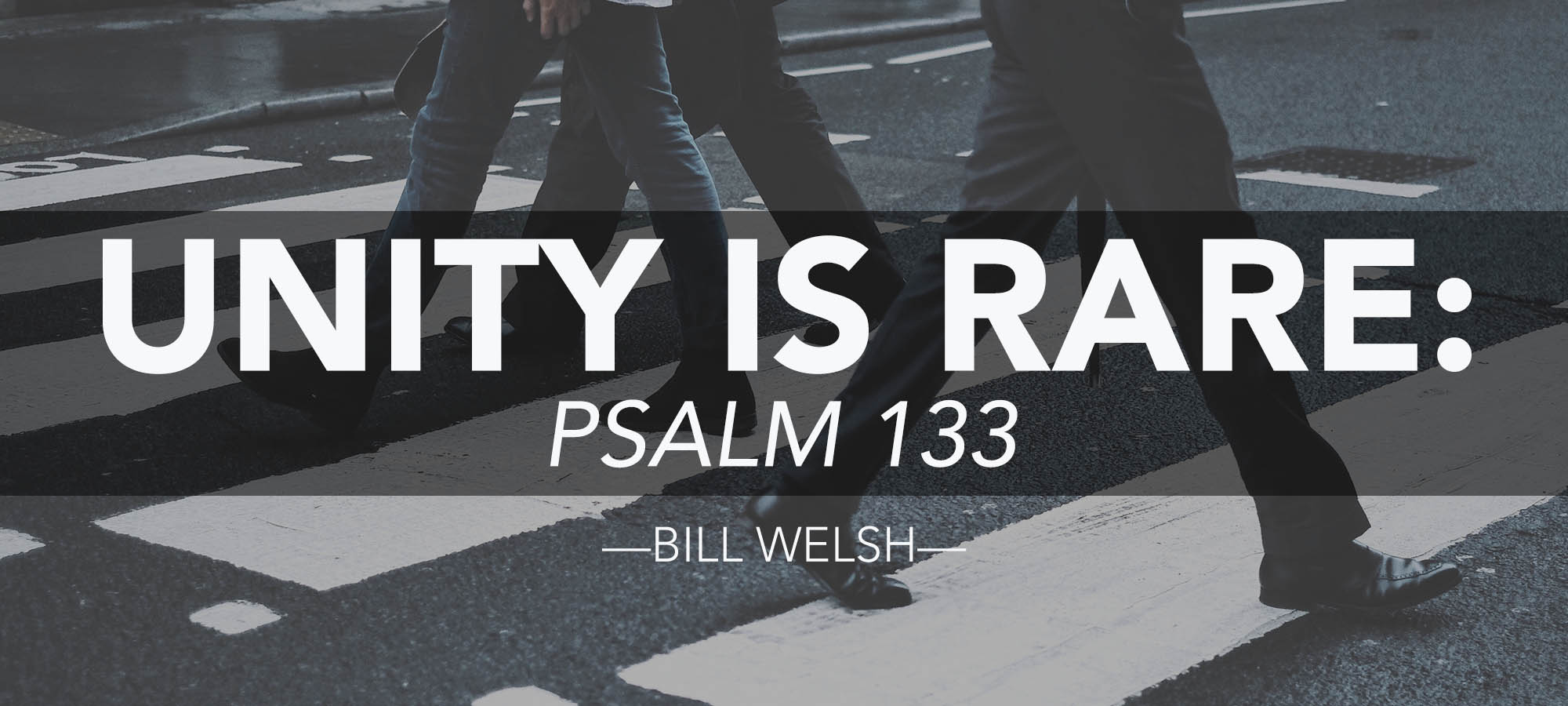 "Strive together for the sake of the Gospel" (Philippians 1:27). "This is My command; Love each other" (John 15:17).
God is love, but he doesn't love everything. In fact, in Proverbs 6:16-19, King Solomon compiled a list of those things God hates. The list concludes with a stated hatred for discord in a family. God loves unity. God hates division between those who should be loving one another. Anyone who grew up in a family of more than one child or raised a quiver full of kids understands David's sentiment here when he says, "Behold how good and pleasant when the kids get along" (my paraphrase).
When you have a family, you have the potential for conflict. You don't even need a child in the home to prove that point. A husband and wife or even a couple friends can experience conflict all on their own.
Bottom line: Unity is Rare
Any way we look at it, it really is wonderful when we get along with one another, especially in a family of brothers and sisters gathered together around a common faith.
The Bible makes it clear that David knew all to well the pain of a divided house. The battles between David's children were epic. They were fueled by lust, jealousy, revenge and ambition. His royal children left a wake of destruction as they battled one another.
It's impossible to know when David wrote Psalm 133 or what scene he had in mind. Did he look around at an uncharacteristically tranquil home? Or was he looking back at a more peaceful time of family harmony?
Whatever the inspiration for this song, there is no doubt its placement here, just before our "finish line," is meant to give us a view of the assembly of worshipers gathered for the purpose of a yearly celebration in Jerusalem. There was no temple in David's day, so any gathering might likely have been around the Tabernacle, God's "mobile home" that led the way through the wilderness as His visible presence went before the children of Israel for 40 years. Perhaps David enjoyed and marveled at the unity of the large company of singers and dancers who accompanied the Ark of the Covenant as it was brought into Jerusalem and then into the new tent David had built for God.
My favorite scene to imagine at this point is in the temple of Solomon, during one of the mandatory festivals: Passover, Pentecost or Tabernacles. David's passion was to see that beautiful worship center built and filled with loyal, adoring worshipers of Yahweh. This psalm typifies what he longed to see.
In later years, after the construction of the temple, the priestly leader of the carefully planned liturgy would begin at the bottom of a flight of 15 stairs, leading from the court of the women, into the inner courts, reciting a different Psalm on each step as he moved toward the top. He would have begun with Psalm 120 as he took that first step, then 121, 122, etc. Now on step 14, the priest had a panoramic view of all those gathered for worship, including even the Gentiles gathered in their outer courtyard.
On that step, with a breath-taking view, it must have been emotional and thrilling to see those from every tribe of Israel, as well as worshipers from many other nations. But think about the factions within those tribes: the rich with the poor, the educated with the unschooled, the servant and the master. The Pharisee, Sadducee, Essene, Zealot, Scribe and all those foreigners, gathered together for that moment. After the festival, they would potentially go back to their cliques. Yes, there were more than enough points of disagreement to start a civil war in those gatherings. There are in our assemblies too, but for that moment, they were on the same page. They were … "together in unity." David describes the profound impact of such unity:
Unity is like oil. The oil described is that which would have been poured upon the priest to prepare him to stand between God in intercession for His people.
Unity is like dew. Think of that morning dew on your lawn or garden. Dew is life-giving and refreshing.
Unity is that place where the Lord commands the blessing of new life. When God finds a congregation that walks and stands together in unity, you can be sure He will bring those who are looking for life to that "good and pleasant place."
Yes, unity is good and pleasant, but unity is rare.
At times it seems we are born for battle. The Church is notorious for that. Even though we have every reason to stand together and no reason to divide, even though we have each found the same perfect grace, even though Jesus prayed for us to experience "perfect unity" and begged us to love one another, we often stand at arms length from one another, apparently to get a good shot at our brother as we assume opposite sides of a battlefield.
God won't force us to be saved, and He won't force us to love each other. He will, however, pour down the "oil and the dew" and bring new life among us as we walk together in unity and fight for one another. May God find us laying aside petty differences and see us "practicing for heaven," as we strive together for the sake of the Gospel. Let's lift one voice with one passion and give praise to the One True God who made us one in Jesus Christ.
We sang a song in my early days in the family of God that declared:
We are one in the Spirit
We are one in the Lord
And we pray that our unity
Will one day be restored
And they'll know we are Christians by our love
Yes, indeed they will.