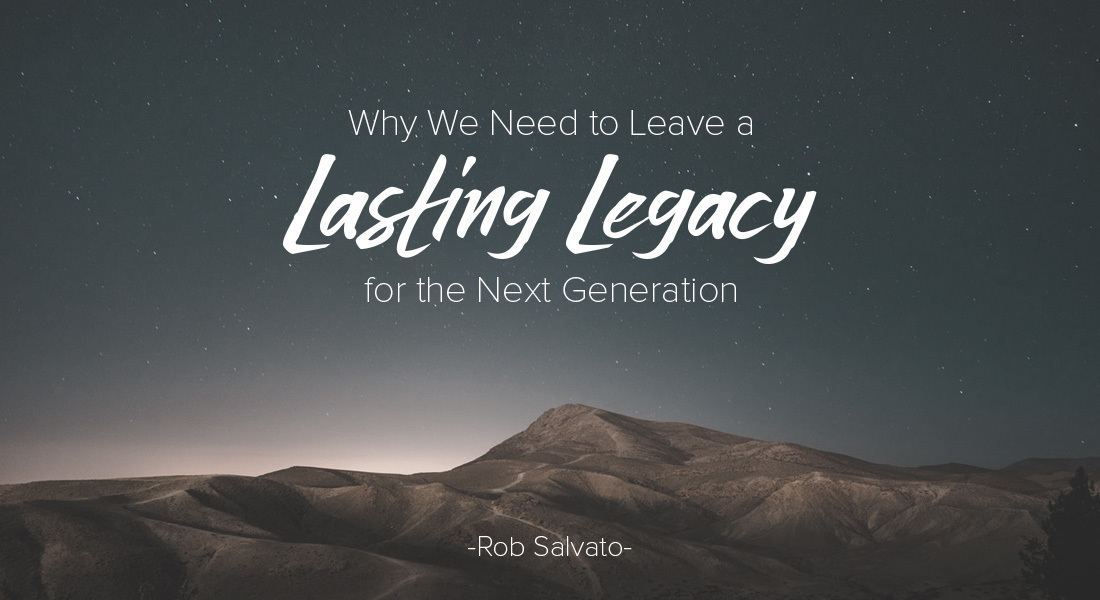 Recently, I was asked to be one of the speakers at a retreat for millennials where the theme was "Legacy." The definition of legacy that was put forth was: something transmitted by or received from a predecessor or from the past. In my experience, legacies are born out of relationships and moments that leave a mark and make an impact. As I prepared for my message, it caused me to think back on two men who shared moments with me and gave me opportunities that have left a legacy upon my own life and ministry to others.
A LIFE-CHANGING CONVERSATION
Richard Cimino was my high school pastor during my senior year when I attended Calvary Chapel Costa Mesa. It was a conversation with Richard over lunch one day that changed the whole trajectory and focus of my life. Richard lovingly said to me, "Rob, do you know what your problem is?" I was taken off guard but curious as to what he was about to say, so I responded, "No. What?" Richard proceeded to tell me that my problem was that Jesus was only a part of my life and not the center of my life.
Those words cut me to the core. I knew he was right. I definitely was a Christian and loved Jesus, but my life and priorities were divided like slices of a pie between school, friends, family, playing baseball (which was a major passion), my job and Jesus. Sometimes Jesus was a big slice, but at other times He was a small slice. The Lord showed me that He wanted to be in the center of my life and that all those other things needed to revolve around my relationship with Him. It was that conversation with Richard that would be the catalyst for what would happen a year later when I was in college on a baseball scholarship, and the Lord called me to quit playing baseball and pursue full-time ministry.
OPPORTUNITIES TO SERVE
Richard gave me my first opportunity to serve in ministry, as a leader in the high school youth group at CCCM. At first my role was just to help out in practical ways and to try to spend time encouraging kids the way that Richard encouraged me. Eventually it led to teaching Bible studies, leading home groups and co-leading the Sunday night youth gathering at the church.
However, it was Brian Brodersen who gave me my first opportunity to teach a Bible study. Shortly after the Lord called me to quit playing baseball in college and to focus on serving Him, Brian asked me if I wanted to take over teaching a lunchtime Bible study that he had been doing at University High School in Irvine, California. I told Brian that I didn't know how to teach a Bible study. He told me that God would show me and to take a step of faith. So I did.
After my morning classes at college, I cruised out to the high school and basically shared with the students what God had been showing me in my morning devotions. Surprisingly, the students liked it and asked me to come back! I taught that Bible study every week for the rest of the semester. The students at University told some of their friends at Woodbridge High School about the study, and they invited me to come and teach a Bible study at their school as well. So all of a sudden, I was ministering to a group of students at both of those schools, even though I really didn't know what I was doing, and God was blessing it. At the end of the school year, both groups wanted to keep meeting and suggested that they combine over the summer at a house on Thursday nights. So now I was driving to Irvine on Thursday nights to meet with over 60 high school students in a house. I still didn't know what I was doing, and looking back on it now, I am sure that I taught some things that were heretical! But God was moving and working in spite of me, and through me, all because I was available and Brian gave me an opportunity.
A TRIP TO THE OTHER SIDE OF THE WORLD
Another way that Brian left a lasting mark on my life was when he took me on my very first missions trip overseas. We went to Eastern Europe in 1989, right after the fall of communism. It was an incredible experience. One afternoon during the trip, I was able to lead a group of about six young men to Christ and then throughout the following week, a friend and I met with this group twice a day to disciple them. We met in the morning before school and then we met up in the afternoon, when they got out of school. By the end of the week, that group of six guys had grown to 30 teenagers who were hungry to know Jesus. It was a church in the making! When it was time leave the kids and head back to the United States, I told them that we would bring someone back who would continue to teach them about Jesus and help them grow in their relationship with Him.
Two weeks later I was on a plane with a young man named Mike Harris, who I knew from Richard's high school ministry. Mike was a surfer kid that loved Jesus and had a gift in music and evangelism. By the end of a week back with the kids, things exploded, as over 100 young people were gathering every day to come and hear Mike preach the word and play music. That gathering would turn into what became Calvary Chapel Suboticia Yugoslavia.
Personally, that experience led me to never look at a city the same again. Now, when I go to any city in the world, my first reaction is always to have eyes to see what the Lord is doing and to ask Him what He wants to do in that city and if He wants me to somehow be a part of it. That shift in my heart and mind toward missions took place because someone gave me an opportunity to do something that I had never done before and to be used by God in a way that I didn't think was even possible.
You see, the impact that Brian and Richard had on my life has inspired me to give young men and women, whom I have encountered over the years, an opportunity to be used by God. I have had the privilege of seeing many of them go on to do great things that have far surpassed anything that I have ever done. That, to me, is a tremendous joy! Sometimes I think we can overcomplicate serving God. I was taught that God is not looking for ability but availability.
I believe that we who are leaders in this season need to look for those in the generation behind us who love Jesus, who are available and who desire to serve Him, and give them opportunities that will allow God to blow their minds. It might look messy, and they may not get it right all the time; but we can inspire them to go for it and rejoice with them as God blesses. In doing so, we will leave a lasting legacy!