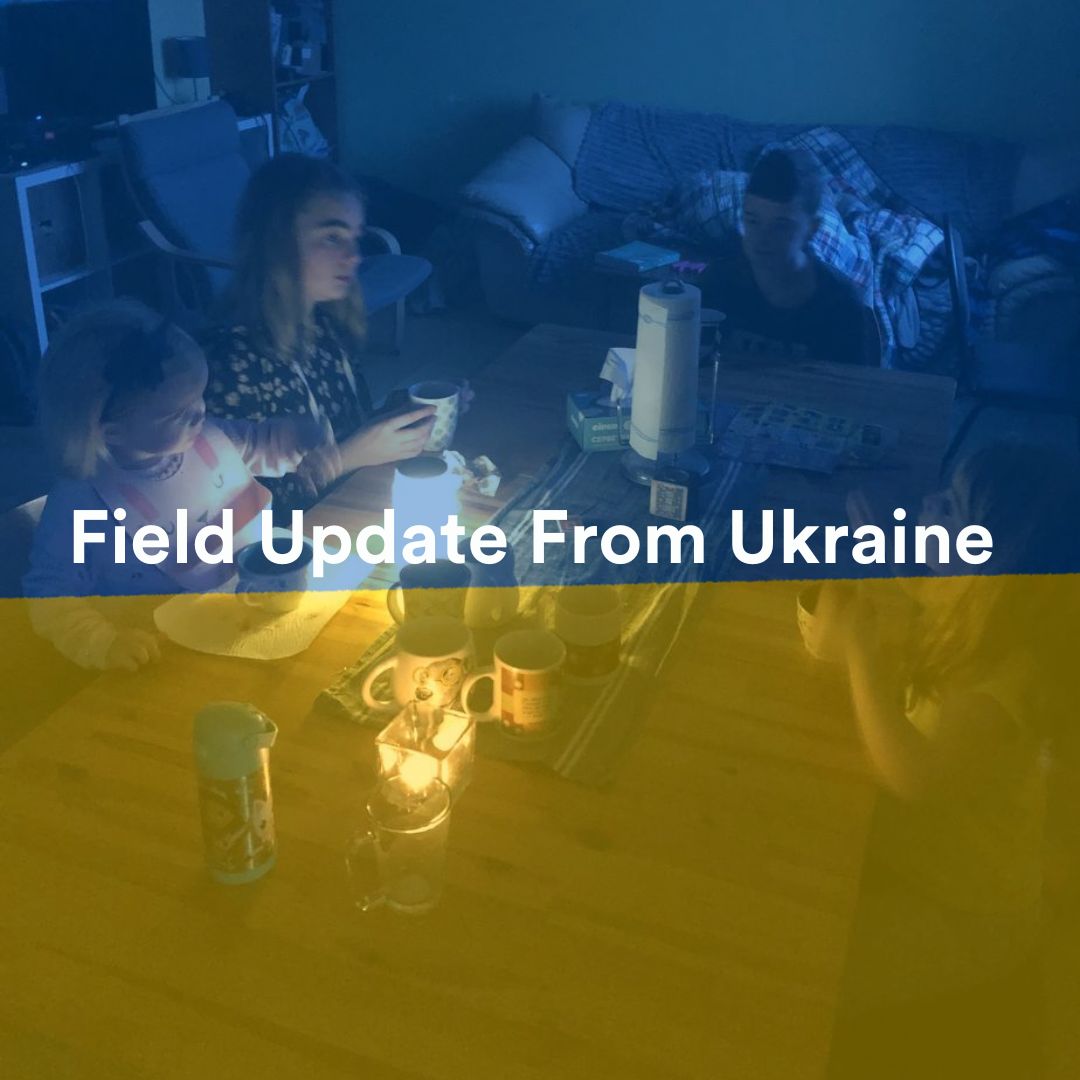 The first snowfall is something we look forward to every year. The dark and grey November days are illuminated and become something beautiful and hopeful. This year, however, the first snowfall coincided with the beginning of a 13-hour power outage for us. We are told to expect outages of this sort to continue. This was followed by air raid sirens which marked the beginning of the third day of concentrated missile strikes targeting Ukraine's power and gas infrastructure. On the first day, nearly 100 missiles were launched across the country.
Beauty and Hope Turning to Chaos and Disorientation
So, this year, snow makes us think of the difficult, cold months ahead. And we have it easy compared to so many others in the country. These past few days have been pretty chaotic and disorienting. I don't mind being in the dark (literally). Still, when we lost internet and even cell phone service for part of a 4-and-a-half-hour air raid siren (the one where the most missiles were launched), I did sense panic building up inside.
Being in the dark about what is actually happening is no fun. Fears present themselves without any sort of rational filter. Irritation comes with every little thing the kids might do or say that is out of sync with my thoughts. Doubts creep in that I'm not strong enough and won't even be able to take care of my family through this madness. Aside from the physical threat and the storm inside, it's been exhausting trying to get anything done.
Plans change and change again. We were planning to move into a new place within the next week, and we've had to reschedule several things for this. This morning we were supposed to record live videos of a few of our new songs. Band members were coming in from a couple of hours away – had to postpone. Crazy how dependent we are on electricity and access to the internet.
Asking for God's Help
I'm not writing this all for you to feel sorry for us. Especially since, as I already mentioned, we know that we have it much better than most. I think part of it is just needing to vent, to express a little bit of what is going on in my heart and head. I ask that you pray for me, for us, and for Ukraine. What is happening is an unconscionable injustice. As representatives of the living God, we are required to walk in justice and mercy, caring for and interceding for the plight of the widow, the orphan, and the oppressed. And how many new widows and orphans are being made every day here.
Seeing God's Help
The Lord has been gracious to us. Every day we recognize His faithfulness and care in small and big ways. During the outages and the sirens, the Lord has had a way of using His body to minister. I've been humbled and calmed by the peace and confidence of so many around me:
The kids are as excited about the snow as ever. When I got home this evening, our 2-year-old couldn't wait to tell me about how she built a snowman.
Steffie has been amazing through all of this. She's talked me off a ledge several times. We've been acting as each other's therapists.
Though we canceled the recording, we still did a practice yesterday and even got together to learn a new song this morning. So much joy and so much encouragement from being with these amazing people.
During part of the long air raid, I was actually getting coffee with Aaron and a young songwriter from another church in town. We talked about some really cool projects we want to work on together. Much of this relates to telling the story of music coming from our region.
Some guys from the church helped me carry furniture at the new house today…in the dark… It felt good to be getting things done. But more importantly, there's something about being together with others facing the same challenges and sharing our experiences. What a beautiful thing the body of Christ is.
Appreciating God's Help
Not sure if I know how to conclude this note. We are so thankful for your prayers, support, and concern for us. May the Lord bless each of you where you are. May you find safety, confidence, and endurance as you live out your calling where He has placed you.