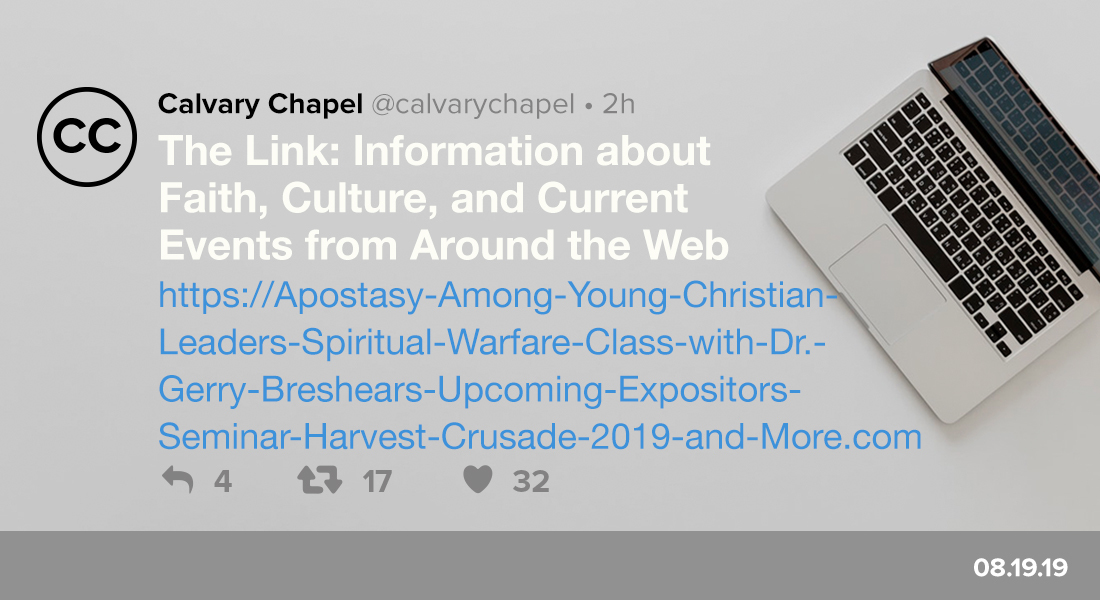 "The Powers of Darkness & the People of God"– CalvaryChapel.com
"In recent years, there has been a heightened interest in the unseen reality of evil. Because of this, Pastor Brian Brodersen updated his book Spiritual Warfare and gave it a new title: The Powers of Darkness and the People of God. It still deals with the subject of spiritual warfare, but the emphasis is to help the individual Christian in his or her personal battle with the powers of darkness. Our prayer is that this book is a blessing and a help to a new generation of readers."

"Teaching the Bible: An Interview with Brian Brodersen"– Maranatha Chapel & Expositors Collective
"Join Pastor Shawn Stone and Pastor Brian Broderson behind the scenes at Expositors Collective as they talk about Brian's start in ministry, Pastor Chuck Smith, and how he went from burdened teaching to Spirit-lead preaching.
The upcoming Expositors Collective will be September 30-31 at Howell, New Jersey! Visit expositorscollective.com for more information!"
"Skillet's John Cooper on Apostasy Among Young Christian Leaders"– Cogent Christianity
"John Cooper, lead singer for the rock band Skillet, responded to the litany of recent apostasies among young Christian leaders. In a Facebook post titled 'What in God's Name is Happening in Christianity?' put up on Tuesday, August 13, Cooper directly addressed the reasons given by Hillsong songwriter Marty Sampson for renouncing his Christian faith, before highlighting the need for Christians to stay grounded in a truth-driven faith over an emotion-driven one."
"Harvest Crusade 2019"– Harvest
"Do you question your purpose, how to find real happiness, or wonder if there's life after death? Find answers to life's looming questions at SoCal Harvest. Join us in three wonderful nights full of musical performances by top Christian artists, special guest interviews, and a message of hope from the gospel that could change your life.
Harvest Crusade is happening this weekend in Anaheim on August 23-25! Visit Harvestsocal.org for more information!

"Spiritual Warfare Class with Dr. Gerry Breshears"– Calvary Chapel St. Petersburg
"There is an ongoing battle between the kingdom of light and the kingdom of darkness. By studying Jesus' life and other passages in scripture, we can gain insights into how to respond to the influence of spiritual warfare effectively. This class, taught by Dr. Gerry Breshears, will be held on Sunday, August 18 from 6:30-8 pm in the Main Auditorium."

"Engaging Opposition: Expressing Love Through Conversation"– CalvaryChapel.com
"If we believe that we have the truth, then what can a person's rigorous questioning of our faith do to us? I believe the word of God and the Christian faith stands up to the most rigorous of questions. We have nothing to fear from those who oppose our views. If we do fear the questions of those with differing views, what does that say about our faith? Are we worried that they will uncover something that is untrue? Surely not."
"When Someone You Admire Abandons the Faith"– Russell Moore
"Evangelical author Joshua Harris announces on Instagram that he no longer considers himself a Christian. Evangelical songwriter Marty Sampson now says the same thing about himself. The Internet is atwitter with opinions on all of that, from atheists, from Christians, and everyone in between. As sad as I am about all of this, I can't help but think about lots of people I've known, many of whom would never make headlines, who just, sometimes very quietly, walked away from the faith."
The Link is a collection of content from around the web, discussing topics in culture, theology, ministry and current events. CalvaryChapel.com does not necessarily endorse or agree with every message or perspective in the diverse pieces posted on The Link. By providing The Link, we hope to help you stay informed of important events and conversations taking place in the world that are relevant to the Christian faith.