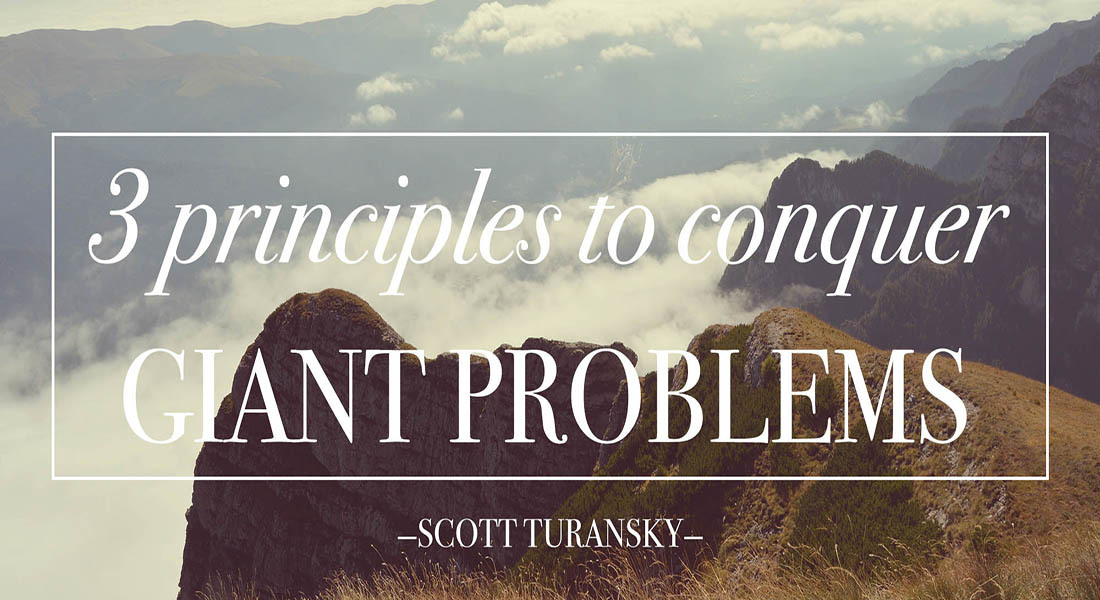 The story of David and Goliath is a familiar one to us all. But could it be that in the familiar, we miss the important? Three principles about conquering giant problems in our own lives are taught through the story of this one young man.
Imagine the story. The scene is tense. As they had done for 40 days, the Israeli army has gone down into the valley to face off. The giant came down and mocked them. In the midst of this drama, David shows up. Having been sent on a mission by his father to deliver the cheese and bread and check on the status of the battle, he goes right out into the valley to find his brothers.
When he hears Goliath's taunts, he starts asking questions, and then it happens. An attack he wasn't expecting! His oldest brother criticizes him. It's as if the attack came out of nowhere. Eliab says in 1 Samuel 17:28, "Why have you come down here? And with whom did you leave those few sheep in the wilderness? I know how conceited you are and how wicked your heart is; you came down only to watch the battle."
It happens to us all the time, doesn't it? You're just trying to get things done, do the right thing and solve problems, and someone, maybe even someone in your own family, goes on the attack. They criticize. They judge. You feel misunderstood. Your immediate impulse is to defend, justify or even attack back. And it's right here in the story where we get our first very important lesson about conquering giant problems in our lives. Notice what David does in verse 30. "He then turned away…" He didn't get sucked in. He didn't defend himself. He just turned away. Why? Because that wasn't the most important battle to fight.
Oh, if we could learn that one lesson, how much more could we accomplish? We wouldn't get sidetracked by petty arguments. We'd be able to focus on the important issues at hand.
Lesson 1: Choose the Right Battles
That's just the first lesson… We have two more to learn.
As David watches the giant rant, his passions are stirred, and he goes to King Saul and offers his services. Notice Saul's response, because in it is the second attack we often experience in our own lives. Saul says in verse 33, "You are not able to go out against this Philistine and fight him; you are only a young man…"
Did you see it? "You are not able…" "You are only…." Those are the words of the enemy, and sometimes they come from those who are supposed to be on our side. Sometimes they come from our own heart as the evil one attacks us with doubts. "You're only a mom without a real job." "You're only unemployed." "You aren't able to do this. You're not strong enough, organized enough or confident enough." Those are lies of the enemy, the accuser, who wants to limit you and me.
David wasn't deterred. He saw the enemy. He knew God would deliver. He wouldn't even wear the king's armor. Why? Because David thought differently about the battle. He knew that God was more powerful than this giant, and he was ready to go out and take him down. Two lessons so far:
Lesson 1: Choose the Right Battles
Lesson 2: With the Right Thinking
And there's one more lesson we can't miss. As David goes down to fight Goliath, the giant tries to provoke him to fight his way. Goliath says in verse 43-44, "Am I a dog, that you come at me with sticks…Come here and I'll give your flesh to the birds and the wild animals!"
And Goliath was right! If David would've come close to Goliath he would have lost the battle. David won this battle because he refused to fight with the same weapons as Goliath. David use weapons of the air. He was a slinger, not a swordsman. A slinger beats a swordsman any day.
How often are you provoked to fight a battle with your spouse and end up in a yelling match? Or when kids argue, why argue with them? We are different. We don't fight the battle the same way. We don't fight with people who fight, argue with people who argue, or yell with people who like to yell.
2 Corinthians 10:4 reminds us, "The weapons we fight with are not the weapons of the world. On the contrary, they have divine power to demolish strongholds. We demolish arguments and every pretension that sets itself up against the knowledge of God, and we take captive every thought to make it obedient to Christ."
We all have giant battles to conquer. God wants to do amazing things in and through us. He wants to empower us to overcome and gain the victory. Notice David's response to Goliath in verse 46. "This day the Lord will deliver you into my hands, and I'll strike you down and cut off your head. This very day I will give the carcasses of the Philistine army to the birds and the wild animals, and the whole world will know that there is a God in Israel." The battle will be won so that "the whole world will know that there is a God." The battle you fight today is not just for you, but God wants to bring you victory to reveal that testimony inside of you. He wants to empower you not only to help you win, but so that others can see the power of God through you.
How does it happen? Keep these three Lessons in mind as you go out to conquer your giant battles.
Lesson 1: Fight the Right Battles
Lesson 2: With the Right Thinking
Lesson 3: Using the Right Weapons
And after the giant fell, David went over and took that sword that was designed to destroy him, and with it cut off Goliath's head. Total victory. The very thing that was meant by the enemy to destroy you is the thing God wants to use to give you total victory.
What giant battle does God want you to conquer today? Maybe you'll say, "I'm not just going to stay in this marriage, but I'm actually going to love my husband." "I'm not just going to endure this job I'm in, but I'm going to bless all those people I come in contact with." "I'm going to overcome this addiction."
Yes, the giant problem in your life is huge. It's tough. But the question isn't "How big is your giant?" The question is, "How big is your God?" Go out and do some conquering today, facing your giant problems with God's grace.