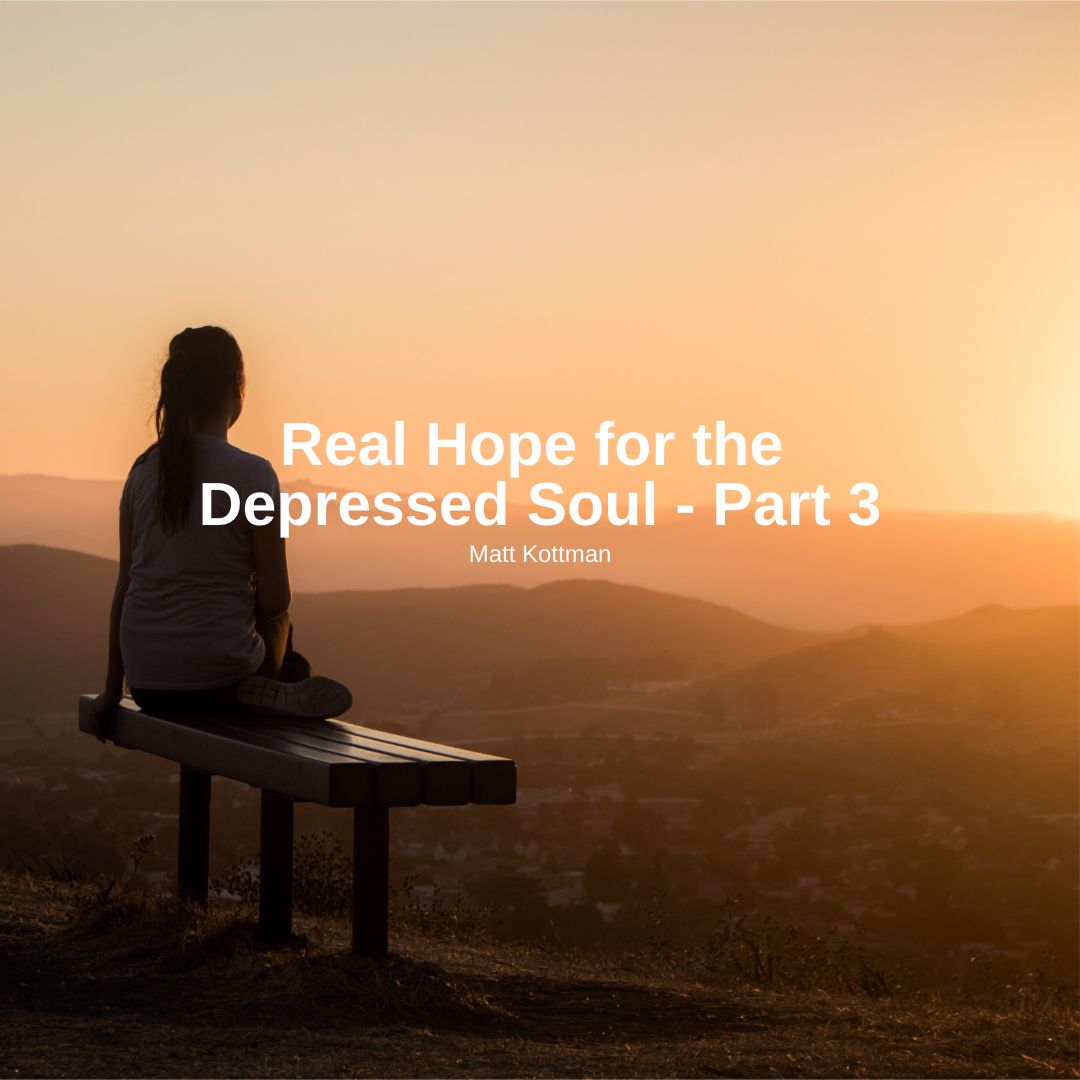 This is part 3 of a 3 part series. You can find part 1 and part 2 here: Part 1 Part 2
(Originally published on March 7, 2016)
Practicing Priesthood
In the previous posts in this series, we looked at the need to set the culture in regards to depression, as well as provide training for the church. Now we come to the third aspect to consider, namely, we are a royal priesthood and are called to act as priests toward one another (1 Pet. 2:9). These are the trenches of one-anothering. Our maturing and training is lived out within a culture for the purpose of aiding one another in growth. A person struggling with depression feels isolated and alone. They scream out into the darkness, "Why?!" not, "How?!" He or she is not looking for steps but for meaning. We can easily err in this priestly role and try to be engineers—dealing symptomatically to restore normalcy. In walking with someone who suffers with depression, the priest seeks to help with the deeper struggle.
Recently Jennifer (not her real name), who battles depression, told me that, "It feels like I can't live, but I can't die either. My heart is continually ripped out over and over again." Such words echo Bunyan's Giant Despair in The Pilgrim's Progress, "Why should you choose life, seeing it is accompanied by so much bitterness?" The Proverbs tell us that, "Hope deferred makes the heart sick" (Pro. 13:12). Such hearts need voices of hope, to speak into their pain. In endeavoring to impart hope, we must ensure that the hope we impart is Gospel hope.
We can easily impart false or trite hopes in an effort to lighten spirits. Gospel hope, however, is the sustaining wind that carries us through the storm to our desired haven (Psalm 107:30).
Below are four different ways we can seek to unveil this hope:
Befriending
Just this week, I spoke with Edward (not his real name) whose neighbour committed suicide. Edward, oblivious to his neighbour's depression, assumed his neighbour was simply avoiding relationship. While he may have been avoiding relationship, it was expressive of his isolation. But the greater our suffering, the greater will be our sense of feeling alone. Hope says, "You are not alone." "A friend loves at all times, and a brother is born for adversity" (Pro 17:17). Befriending one who suffers, brings Christ near to them through his Body. God said he would never leave us nor forsake us (Deut 31:6). He declares us His friends (John 15:15). We can model the hope of God's presence in befriending those struggling with depression.
Remembering
Second, when we remember people, it tells them that, even though we are out of sight, they are still in mind. In Ed Welch's book, Side by Side, he says, "If we are affected by someone's suffering, we will remember it, which is one of the great gifts that we give to each other" (pg. 103). The Apostle Paul certainly communicated this in his prayers for the church, "I always remember you in my prayers" (I Tim 1:3, see also Eph 1:16; Phil 1:4). Remembering communicates,"You matter." It is certainly true that we are created for a purpose, and we are meant to be shaped by one another (Pro 27:17). Remembering brings solidarity, and there is beauty in solidarity, "Remember those who are in prison, as though in prison with them… since you also are in the body" (Heb 13:3).
Sufferers of depression often feel that they are incapable of expressing their anguish. Our remembering their anguish says that at some level, "I feel your pain." Knowing another feels their pain helps unbolt the doors of solitude. This too is a reminder that we have a high priest who can, "Sympathize with our weaknesses" (Heb 4:15). The fact that weaknesses is plural means we cannot exclude a category of weakness (such as depression), from Christ's sympathies.
Grace Hunting
Third, as we enter into their pain, we obtain a new vantage point. Our first response tends to be going on an idol hunt. We want to find the sin or the idol that is at the heart. Whilst there is a place for this, the depressed person is likely heavily engaged in morbid introspection and thus would be greatly helped seeing signs of God's grace at work in them. Saying something like, "You are so courageous. God has given you grace this week to get out of bed and get the kids to school." We want to commend manifested grace where we see it. For those who feel hopeless and alone, this is a reminder that God is near and working even in the mundane.
Jesus' Suffering
Fourth, the suffering of Jesus is both our example and help. We may want to speak of the glories of heaven obtained by Jesus' suffering. But there is also consolation in Christ's suffering itself. Spurgeon, who suffered from depression, said, "It is an unspeakable consolation that our Lord Jesus knows this experience." Zack Eswine, in his book Spurgeon's Sorrows writes, "To feel in our being that the God to whom we cry has Himself suffered as we do enables us to feel that we are not alone and that God is not cruel." Here we can begin to see our burden as belonging to him.
When Amy Carmichael struggled with an unbearable burden in India, she considered Christ and his burden bearing in the Garden, "Under one of those trees our Lord Jesus knelt, and He knelt alone. And I knew that this was His burden not mine. It was He who was asking me to share it with Him, not I who was asking Him to share it with me." She found great comfort knowing that she was partaking in the sufferings of Christ. Jesus not only knows our pain, he endured it, and we kneel beside him in it.
Continuing Work
God is a redeeming God, who continually works his redemption into us. As we walk with depression sufferers, God is not only continuing to work in them, he is continuing to work in us. We mutually grow, building one another up in our most holy faith, as we await the day when all sin, sickness, and death gives way to the glorious liberty of the children of God (Rom 8:21).