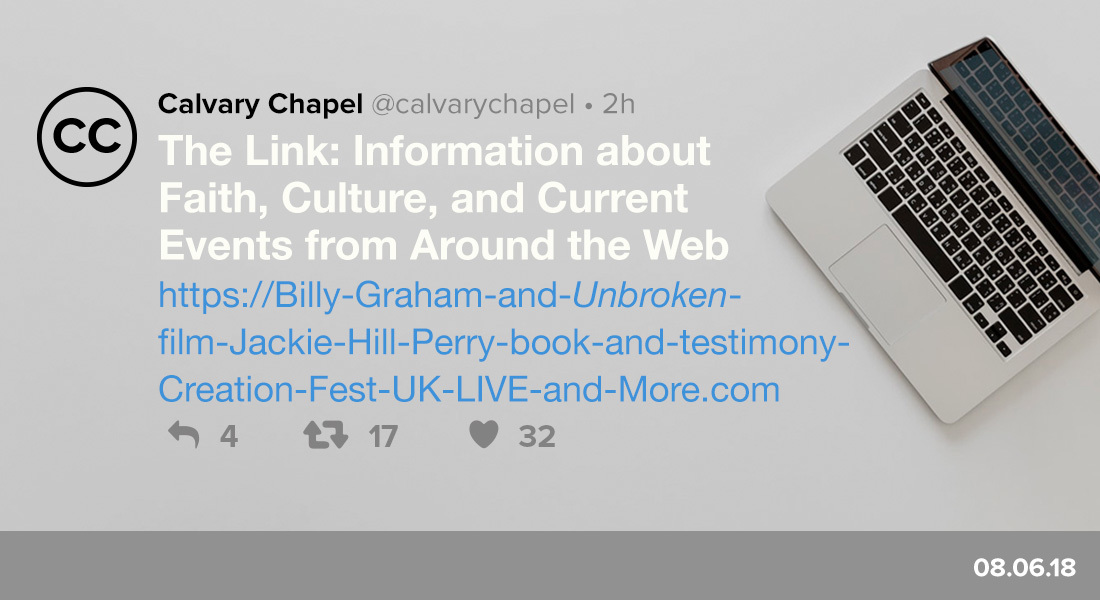 "Creation Fest is a Christian Music Festival and Bible Week held at The Royal Cornwall Events Centre (Royal Cornwall Showground), in Wadebridge, from the 4-10 August 2018. You can help support Creation Fest by making a donation or GET INVOLVED and join our volunteer team!"
"St Paul's 'depth charge'. Why historian Tom Holland changed his mind about Christianity"– Premier Christianty
"Bestselling historical author Tom Holland took part in a revealing dialogue with New Testament scholar NT Wright"
"Watch Billy Graham preach again in 'Unbroken' sequel, played by grandson Will Graham"– USA Today
"The Rev. Billy Graham is back preaching in "Unbroken: Path to Redemption." This exclusive clip shows the key moment when Graham, played by grandson Will Graham, met Louis Zamperini. USA TODAY"
"Sound the Alarm – Bell (a review of Rob Bell's Premier Interview)"– TheWeeFlea
"It's illegal to cycle in the UK without a bell on your bike. The reason for this is to warn the ambling pedestrians that you are about to hit. I thought of this when I wasted 47 minutes of my life listening to one of the worst interviews in terms of the responses of the interviewee, I have ever heard – Premier Christianity magazine's interview with Rob Bell."
"Gay Girl Good God"– Jackie Hill Perry
Gay Girl Good God is Jackie Hill Perry's book & testimony that you will not want to miss out on!
"Digging Deeper into the Mission & Vision of the CalvaryGlobal Network"– CalvaryChapel.com
"In this episode of the Mission & Methods Podcast, Kellen Criswell, Director of CGN, breaks down the Vision, Mission, and Initiatives of Calvary Global Network."
"USA Olympic Surfing Coach Joey Buran, The Open, and Worship Generation"– Together LA
"Joey Buran, who's been keeping a close eye on the U.S. Open of Surfing 2018 held in Huntington Beach this week, will hang his USA Olympic Surfing Team Coach hat down for a moment and give a message at the regular Saturday evening service at Worship Generation church."
"United To Christ's Love — A Prayer (Ephesians 3:14-16)"– NateHoldridge.com
"On the night before His death, Jesus taught His disciples. He spoke to them of many things on their way to the garden of Gethsemane. One teaching spoke of their vital union to Him; they needed to abide in Him like a branch abides in the vine. The life of the vine would flow into the branch."
"Single Vision"– Back to Basics
"In the Sermon on the Mount, we have seen that it is God's intention for the church to be radically distinct from the world. In order for that to happen, we need a pure devotion to Jesus Christ and a firm resolve to live for Him."
The Link is a collection of content from around the web, discussing topics in culture, theology, ministry and current events. CalvaryChapel.com does not necessarily endorse or agree with every message or perspective in the diverse pieces posted on The Link. By providing The Link, we hope to help you stay informed of important events and conversations taking place in the world that are relevant to the Christian faith.