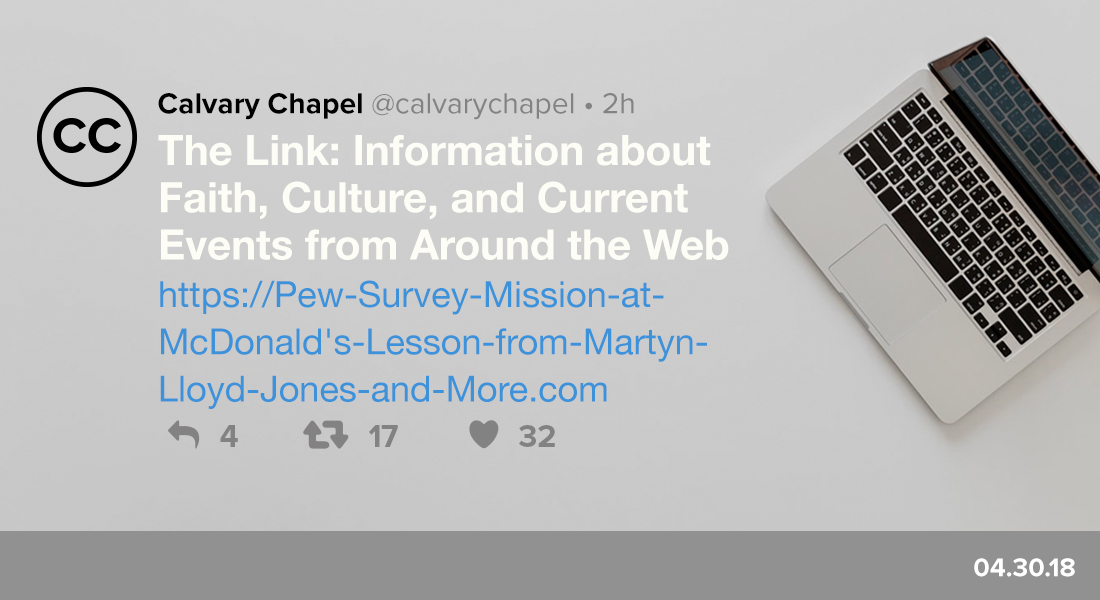 "80% of Americans Believe in God. Pew Found Out What They Mean."– Christianity Today
"'We believe in God,' Amy Grant famously sang in the '90s. Today, 4 out of 5 Americans still say the same. But according to a new survey from the Pew Research Center, what they mean by God varies a lot. Pastors and theologians often warn Christians against ascribing to a 'God of their own making,' knowing that not all who say they believe understand God as described in Scripture or in the traditional creeds of the church."
"Can You Explain the Gospel in 3 Words?"– The Gospel Coalition
"Could you explain the gospel to an unbeliever using only three words? That was the challenge someone posted a couple of weeks ago on social media. 'One can't explain the whole gospel in only three words,' I mumbled to myself. 'That's why we have a canon of 66 books.' The more I thought about it, though, the more my mind changed, and I became open to taking up the challenge."
"5 Lessons I've Learned from Martyn Lloyd-Jones' Preaching"– Crossway
"I owe more to the ministry of Martyn Lloyd-Jones than I can put into words. In what follows, I try to summarize some of the most life-changing lessons I have learned from his preaching."
Dr. Dominck Hernández Interview About Passover Feast"– domhernandez.com
Moody Radio interviews Dr. Dominick Hernández as he discusses the Passover feast.
"On Mission at McDonald's"– The Gospel Coalition
"For a good number of evangelicals, the word 'missional' next to 'millennial' conjures up the coffee connoisseur doing relational evangelism at upscale restaurants that cater to foodies. If millennials resist chain restaurants and opt instead for something more authentic than mass-market productions, surely those who want to reach millennials should adopt similar attitudes, right?"
"Planned Parenthood Defends Bill Cosby: 'Sexual Assault is only 3% of What He Does'"– The Babylon Bee
"While almost nobody is willing to defend Bill Cosby any longer after he was convicted of sexual assault Thursday, the former television star and comedian found an ally in abortion provider Planned Parenthood."
"Jesus, Take the Control Wheel: Southwest Pilot Saw Flying as Ministry"– Christianity Today"When members of First Baptist Church in Boerne, Texas, heard recordings of radio transmissions from a Southwest Airlines pilot who made a harrowing emergency landing this week in Philadelphia, they recognized the voice as one of their own."
"Salt of the Earth"– Back to Basics
"Jesus' words had a threefold application. First, in Jesus' day salt was used as a preservative since there was no refrigeration. His listeners would have understood Him to be saying that they were to have a preserving effect on the world that they were living in."
The Link is a collection of content from around the web, discussing topics in culture, theology, ministry and current events. CalvaryChapel.com does not necessarily endorse or agree with every message or perspective in the diverse pieces posted on The Link. By providing The Link, we hope to help you stay informed of important events and conversations taking place in the world that are relevant to the Christian faith.