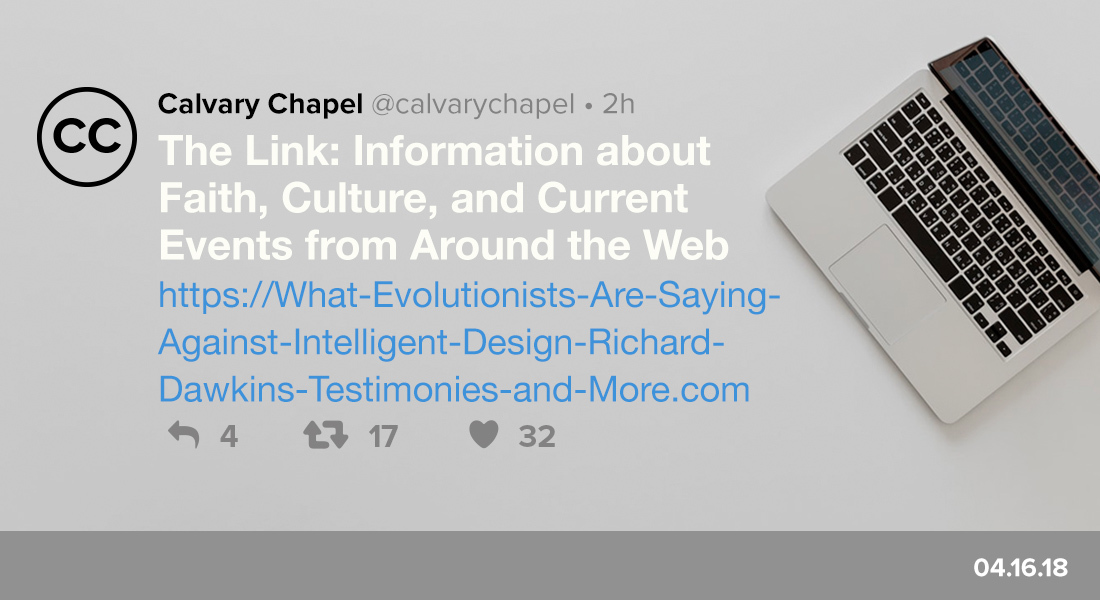 "Is the Human Eye Evidence Against Intelligent Design"– Evolution News
"Some people argue that the human eye is flawed, proving that it was not intelligently designed but evolved by unguided processes."
"Salvation Came Through Richard Dawkins"– The WeeFlea
"Today, I feel no resentment towards my RDNet correspondents. After all, it was among the atheists that I found salvation."
"Former French Atheist Becomes a Christian: An Interview"– Sean McDowell
"I was in my mid-twenties, working near Paris as a computer scientist in finance, playing volleyball in national league and keyboard in a rock band, and hated the idea of God and religion. It took quite a conspiracy of many improbable events for me to even hear the Gospel in such a secular culture as that of France…"
"This Week, Speak the Name of Andrew Brunson, a Persecuted Brother in Turkey"– Christianity Today
"On July 15, 2016, Christian pastor Andrew Brunson had no idea that a group of Turkish rebels were about to make a choice that would put his own life in serious danger. On this day, a group within the Turkish armed forces attempted to overthrow their government. Over 300 were killed and more than 2,100 were injured before the rebellion was squashed by the State."
"'Come Sunday,' The Heretic,' And the Sad Stories of 'Rebel' Pastors"– The Gospel Coalition
"The media narratives of these stories often depict the megachurch pastor as the villain and their church as the victim. Two newly released films flip this script, however, pitching the "I was once a megachurch pastor" narrative as a renegade hero's journey. Netflix's Come Sunday, about Pentecostal bishop Carlton Pearson, and documentary The Heretic, about Rob Bell, tell similar tales of prominent pastors who lost their congregations after they started "rethinking" hell and promoting messages of universalism."
"Tim Chaddick: Why I Moved From LA to Plant a Church in London"– Premier Christian Radio
"In this in depth interview with Sam Hailes, Tim shares his testimony in full, explains why he's so committed to church planting and reflects on the differences and similarities between ministry in the USA and the UK."
Ministry Internship Available at Haven City Church
Haven City Church offers a one-year residential ministry internship and a 10 week Summer internship. Both internships are an excellent opportunity to get real-world ministry experience in an urban environment. We have all kinds of opportunities to serve our community, disciple believers, lead worship services… And our interns are involved in all of these opportunities.
The Link is a collection of content from around the web, discussing topics in culture, theology, ministry and current events. CalvaryChapel.com does not necessarily endorse or agree with every message or perspective in the diverse pieces posted on The Link. By providing The Link, we hope to help you stay informed of important events and conversations taking place in the world that are relevant to the Christian faith.