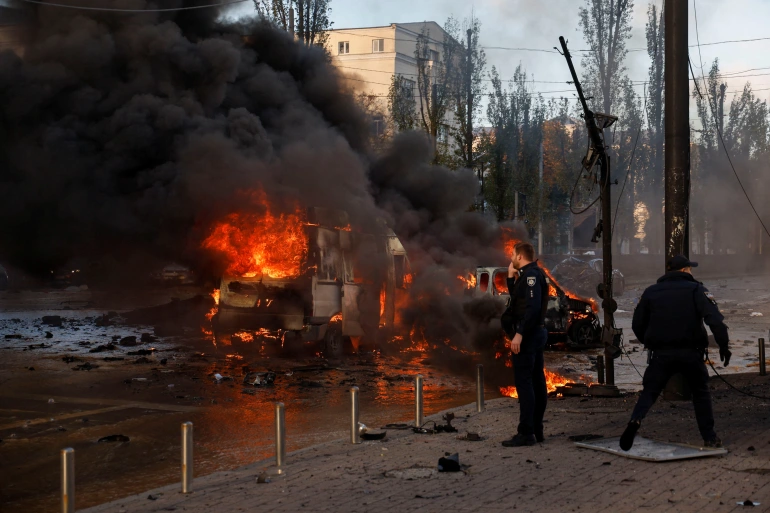 Hello Church friends and family. I am writing on behalf of the CGN Ukraine team, letting you know of some very urgent needs! I have just been contacted by some of our missionaries stationed in Ukraine, and they have told me that Russian missile barrages have cut power and water across Ukraine. Outages struck Kyiv and the surrounding region, as well as Lviv, Dnipro, Odesa and Kharkiv. Half of Moldova, whose grid is tied to Ukraine's, also lost power.
My friend Jon Markey, one of our missionaries in Ukraine, texted me this yesterday:
"Hey, man. So things are changing here pretty quick. Right now there is a huge need for getting generators, anything to do with power and internet in to Ukraine. We need to get word out on this right away. It's surreal and slightly unnerving to sit and feel the temperature drop in your apartment and realize that it is terrorism… that the man responsible for this is intentionally targeting civilians – women, children, the vulnerable and immobile all to bring a country to bow before his pride.
In Ternopil, we are the fortunate ones for now. We only lose power for 12-14 hours at a time. There are many who have already gone days with no heat, water, electricity. This is only the beginning of a long winter ahead and more missiles are being prepared for their targets."
The CGN Ops team is asking that the churches in our network band together to step into this moment and help.
If you would like to help Ukrainians and our missionaries as they brace for the cold months ahead please visit this link:
Donate to the Ukraine Relief Fund
Please share this post far and wide! If you're a pastor in our network, please help us get the word out.
And please, most of all, commit yourselves for praying for peace, justice, deliverance, and mercy in this moment.
Lord have mercy.
*100% of All funds are used to help our team of missionaries in Ukraine.